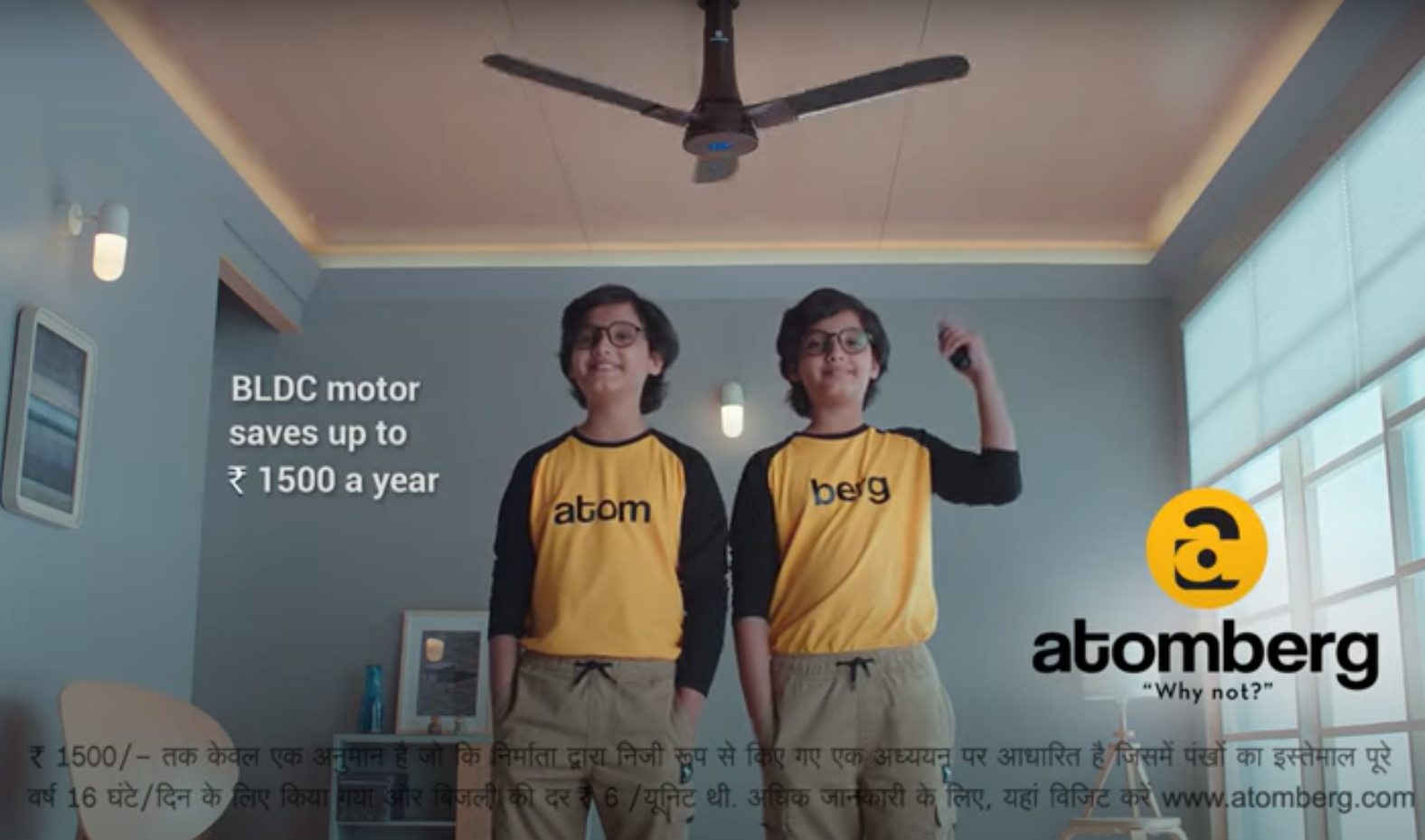 'Why Not?' - That's the burning question one might have recently heard on TV in the maiden ad films of a Mumbai-based startup 'Atomberg Technologies.' This question is perhaps the force behind most breakthrough innovations. However, startups emerging in India are dominantly based on business model innovations and software development. There are very few doing something other than just encouraging you to 'Download the app now!' rather than building enhanced tech-based products. ‌‌These are the hardware startups employing 'hardcore engineering' and, for obvious reasons, are 'hard' to startup and can rarely begin from your dormitory. Atomberg is one such startup founded in 2012 by IIT Bombay alumni Manoj Meena and Sibabrata Das with a vision "To become a respected consumer brand known for smart and energy-efficient appliances."
Genesis:
When Mr. Manoj graduated as an electrical engineer in 2011 from IITB, he was determined to startup. Along with two friends, he began experimenting with ideas and projects at IITB without the assurance of a source of income. He humbly admitted that he didn't hesitate to seek financial support from his friends who got lucrative placements. Soon Atomberg was incubated in Society for Innovation and Entrepreneurship (SINE), IITB. However, his friends had left the journey but he was joined by his hostel mate Mr. Sibabrata. The first few years were a blur of high-end technical products that went to prestigious clients like the Defense Research and Development Organisation (DRDO), Bhabha Atomic Research Center (BARC), and IIT-Bombay. However, for the consumer market, many ideas failed until finally, the Eureka moment came when they wondered why can't the ceiling fan of their room be switched on with a remote! As they studied the world of household appliances which included the ceiling fans, they noticed a massive gap. On the one hand, some appliances had standard features but consumed a lot of electricity in the process. On the other hand, there were energy-efficient appliances that simply cannot compete with others in design, looks, price, etc. They thus aimed to combine energy efficiency with emerging trends like the Internet Of Things (IoT) to create smart, intelligent, and connected electrical appliances. They decided to begin with a hyper-focus on making India's best fan. Manoj and a team of engineers built, refined, and repeated prototype designs round the clock. A relentless routine of testing and refining resulted in a prototype that was ready for the market in 6 months. In 2015, the prototype's success enabled them to receive funding to set up a manufacturing plant in Navi Mumbai, and soon, they launched Gorilla fans.
Product: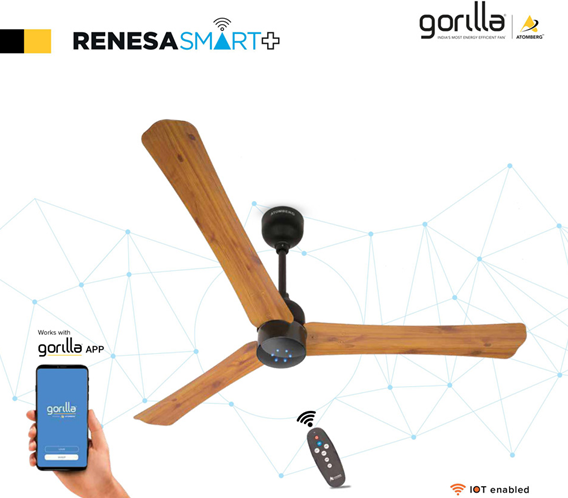 ‌The ‌‌Gorilla brand claimed as India's most energy-efficient fan is Atomberg's first product in the consumer appliances segment. It hosts a super energy-efficient BLDC motor. The fan consumes only 28W power at the highest speed than other ordinary fans in the market that consume 75W, thereby promising savings of up to ₹1500 per year to the customer. The Renesa Smart + is the most advanced product currently offered by Atomberg. This IoT-enabled fan can be operated using a smart remote, an app, or even via voice. Some other benefits include modern design, better air delivery efficiency, and a longer runtime inverter.
Technology:
Energy-efficient fans are based on the revolutionary BLDC (Brushless Direct Current) Motor technology in contrast with old fans using outdated induction motors. In a BLDC motor, the rotor is a permanent magnet and the coils are fixed on the stator. As the coils do not move, there is no need for brushes and a commutator, otherwise present in a conventional motor. The rotation of the permanent magnet is achieved by changing the direction of the magnetic fields generated by the surrounding stationary coils. This rotation can be controlled by adjusting the magnitude and direction of the current into these coils.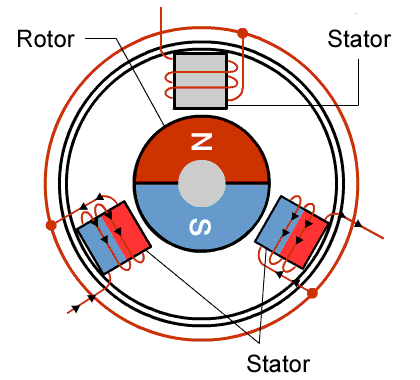 The advantages of a brushless motor over brushed motors are high power-to-weight ratio, high speed, nearly instantaneous control of speed (rpm) and torque, high efficiency, and low maintenance. Due to the absence of brushes, mechanical energy loss due to friction is avoided, hence BLDC motors are more efficient - a considerably smaller magnet (and thus smaller motor size) is required to produce the same power as that of a brushed motor. BLDC motors can also be controlled, using feedback mechanisms, to deliver precisely the desired torque and rotation speed. Precision control in turn reduces energy consumption and heat generation, and in cases where motors are battery-powered—lengthens the battery life. They also offer high durability and low electric noise generation, thanks to the lack of brushes. With brushed motors, the brushes and commutator wear down as a result of continuous moving contact, and also produce sparks which causes the noise.
Atomberg has combined this BLDC motor technology with intelligent electronics programmed using its AtomSENSE algorithm. This motor-tuning and calibration algorithm checks various motor parameters in real-time and controls the motor in a close loop, ensuring an efficient motor performance. The algorithm is also incorporated with protection handlers that keep the motor safe from voltage surges, current surges in the coil, peak power locking, and coil heating. Further, the compact motor has enabled Atomberg to incorporate multiple innovations like constantly evolving motor designs to match contemporary aesthetics, longer blades for better air delivery, futuristic controls like voice command and app control for the ultimate smart fan experience, and flexibility with material selection, resulting in superior product design and finish.
Building a company:
The team was overwhelmed when 500 fans were sold in the first month itself. But this was just the beginning. With continuous efforts towards expansion, they began to sell online in 2016. They started with B2B sales to build credibility in the market, and soon, Reliance, Infosys, Tata, IITB and IIITH became loyal customers. Their unique mission of solving India's energy crisis and providing consumer comfort earned them the recognition of 'Champions of Change' by PM Modi. The team won the National Entrepreneurship Award 2017 from the Govt. of India and received international accolades from the World Wildlife Fund and the United Nations Industrial Development Organization. In 2018, they entered the retail space across cities and started making over a crore every month from e-commerce. The company's success also brought some personal glory to the founders when they featured in Forbes 30 Under 30 India and Asia 2018. Today, Atomberg has presence in 100+ cities, has 300+ employees and has served over a million customers. So far, it has raised a total of ₹160 crore that would be used for amplifying distribution networks, building brand awareness, and ramping up production capacity.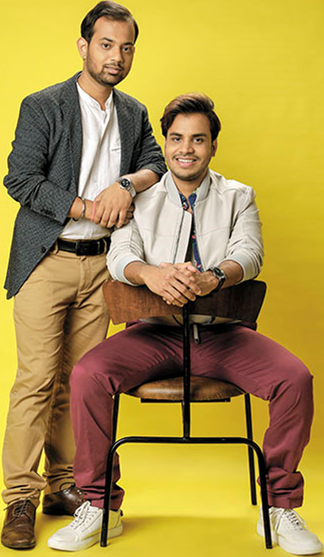 Future:
In December 2020, Atomberg raised ₹70 crores led by venture capital firm A91 Partners with Trifecta Capital and Survam Partners' participation. Manoj Meena, Chief Executive of Atomberg Technologies, was quoted in ET then:
"We have successfully scaled up to an annual revenue run rate of more than Rs 150 crores and we are bullish about continuing this rate of growth for the next few years. With this fresh round of funding, we believe we have the right ammunition required to create the kind of consumer brand we visualized a few years back."
Atomberg introduced a new logo to reposition itself as a hustler in unlocking new possibilities with its product innovations and started its brand campaign '#WhyNot' on digital media. It has now begun to expand its reach via advertisements on TV. Arindam Paul, Head of Marketing at Atomberg, was recently quoted in ET:
"All our product innovations and the belief of challenging the status quo comes from asking this one simple question-'Why Not?'. More than the product features and benefits, what this campaign really intends to do is to communicate to the world what Atomberg stands for. With a storyline that is very different from traditional ceiling fan ads, we believe we have created something that should break the clutter. This should help us create exponential brand awareness and also make the brand likeable."
Currently products sold are limited to different kinds of fans. However Atomberg wants to leverage its expertise in BLDC motors by introducing new products like smart coolers which have the same technology base. By developing the technology, it got the advantage of being the first mover. Still, its journey ahead would be fascinating to observe, with established brands like Orient and Havells emerging as solid competitors as smart fans are starting to get popular in the market.‌