The repercussion of ignorance of nature's prodigious power was the SARS-CoV-2 virus causing a lethal pandemic. Since then, the health industry has become not only a necessity, but rather a luxury due the sheer number of fatal ailment cases the world is drowning in. Medicfibers Private Limited is an ingenious IIT Delhi start-up dealing in antiviral and antimicrobial chemicals as well as textile solutions, to cater to the need of the hour as well as for future welfare. The ambitious team affirms that it is on a mandate to save mankind from seemingly indomitable infectious viruses, bacteria and fungi. Their textile solutions and related products can be used in the healthcare sector to prevent the transmission of virulent strains in a pandemic and infections through textiles or fabrics. In this article, Harsh Lal, the founder of the start-up walks us through some phenomenal details about Medicfibers.
Medicfibers is the first end to end medical device company, where the path from designing to testing to prototyping and ultimately full production is followed. Harsh and his team recently secured their Series A funding and raised a few research grants from DST and IIT Patna. His team comprises of approximately thirty people with more than ten engineers and ten technicians. Medicfibers has had three plus innovatory patents so far. It has garnered well deserved support and acclaim from world's leading universities, supply chain partners and research organisations.
The Team: Soul of Successful Ventures
The core team comprises of Mr. Hansraj Sagar acting as the Chief Operating Officer. His task is to handle the production and operation sector. Mr. Akash Sharma, the Chief Technical Officer, manages the technical and commercial aspect of the products in respect of product development. Mr Nitin Narang, a lead investor in the company, is assigned the role of Investor Director. The research and development of the products take place in New Delhi, in modernistic hi-tech laboratories set up by the company at numerous locations. The material is procured from Singapore and the US, ultimately followed by production at their own facility in Delhi.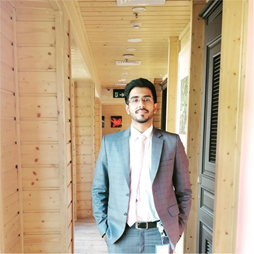 The State Of The Art In Healthcare Textiles: The Products
Harsh Lal recounts that the company launched its very first product antiviral and antimicrobial linen in January of 2021. Some leading edge products that were launched later on by the start-up include doctors' coats, bed sheets, surgical gowns, masks, and uniforms made of special protective fibre. Medicfibers' uniquely produced products are lucrative and in addition would prevent pathogens from proliferating within the medical facilities as well as in commonplace circumstances. One of the products that Harsh Lal is particularly proud of antiviral and antimicrobial linen, the team's very first product. Prominent organisations and healthcare workplaces like AIIMS Delhi, Safdarjung Hospital have employed it on their premises. Not just him, Harsh mentions, indeed his entire team feels gratified on being able to provide such a life-saving transformative technology as it curbs the transmission of viruses up to 99.9%. Approximately forty percent of disease transmissions or infections spread through virus in hospitals, making this an impactful and momentous research product.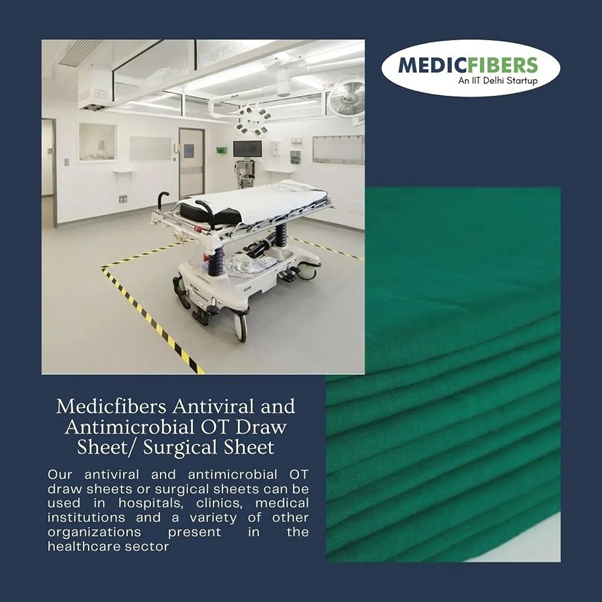 Facing the Challenges: Research Based & Financial
Challenges are inevitably woven in the path of all leading companies rooted in the industry for years. Start-ups are infamous for encountering them, and though Medicfibers is no stranger to obstacles, it has managed to resolve them majorly. Harsh feels that one of the significant problems faced is lack of proper laboratory testing facilities. There is a dearth of international quality labs in India, so the samples had to be sent to the US and Israel or testing. The shipping of samples and their testing abroad turns out to have exorbitant expenditure, approximately ₹ 15-20 lacs for each product. Even if the testing fails, the money is non-refundable. For one product, the samples have to be sent around an average of five times, making this in entirety a highly costly affair. The presence of updated technological labs in India would pave a highly more accessible way for setting up medical research based start-ups.
Marketing a completely new product is a herculean task in itself. Marketing may be either Business to Business (B2B) or Business to Consumer (B2C). Medicfibers is not presently dealing with direct consumers, and only employs B2B marketing. Converting of customers is a major challenge faced. The lead time, which is the total time taken from initiation to conclusion in financial processes, to convert costumers is currently twenty five to thirty days for this company. Consistency and patience are requisite for successful marketing, Harsh Lal affirms. One of the deals took six whole months to be converted and be finally procured. A noteworthy setback is the cost incurred while pursuing a deal, even while it is not yet certain if it would be finalised positively. The tentative expenditure on each customer is approximately ₹ 1 lac to ₹2 lac up until now. In B2B sector, it is highly recommended to hire professionals to carry out the deals, which in turn again would require a decent sum of money for the salaries. Since Medicfibers obtained one time funding from various institutions, the initial process of procuring sufficient monetary resources to carry out these tasks was feasible.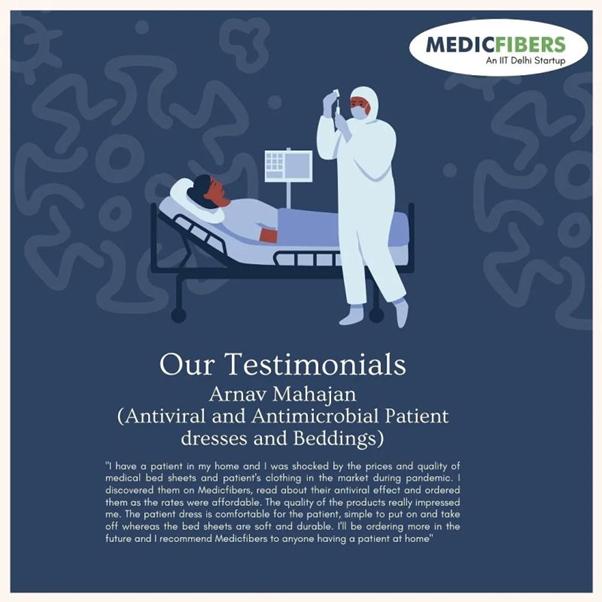 Upcoming Project: Future Intent & Vision
The next product the company plans to launch is anti-microbial and anti-viral sutures that are soluble in blood. Sutures are sterile surgical threads for stitching up cuts or lacerations. Sutures in internal organs are currently highly prone to infection as they need to be operated upon to be removed once the wound is healed. This ingenious product aims for faster and safer healing of the wounds. The team strives to come up with novel ideas to increase healthcare safety by their leading edge technological textiles.