It is a common sight on the highways, especially at night, to find a convoy of goods carrying trucks and lorries, moving along in a single file. In fact, according to market research conducted by knowledge management firm Novonous, 63% of freight movement in India majorly occurs through road transportation.
A May 2015 report by them expects freight transport market to grow at a compound annual growth rate [CAGR] of 13.3% by 2020 while road freight transport is expected to grow at 15%. One would expect that a sector of such great promise would be effectively managed and operated, except that was not the case until only a few years ago.
Your neighbourhood truck owner manages his business on his smartphone, tending to the planning and execution of various tasks on Whatsapp or call- negotiating for the right rates with the company, checking for and supplying the right trucks for the right freight, calling in the right drivers and managing their pay, establishing routes and small detours to save on transport costs and finally ensuring smooth delivery and collection of payment from the buyer.

The big companies looking for transport need to deal with thousands of such owners and coordinate the supply of trucks to meet their requirement. Plagued with problems throughout- the companies who don't get the right availability and pricing or the truck owners who struggle to create proper demand, manage the cash flow or the drivers who have long work hours with poor pay and almost no benefits, the Indian logistics sector is delicately balanced by thousands of such pillars of different heights and strengths.
Even the 'industry' that it is today, is only driven by the few asset owners who contribute less than 5% to the total supply in the country. A sector that is expected to be worth a whopping $300 billion by 2020 struggled with ineffective information flow between the stakeholders, all due to lack of adoption of technology.
Enter Blackbuck. Led by Co-Founder & CEO Rajesh Yabaji, Blackbuck aims to create a marketplace for truckers and buyers to exponentially scale down these problems while championing the needs of all parties. Blackbuck chose this market-place model over asset ownership model and still maintain their stand as a tech start-up by using investor money to acquire customers on both fronts and collecting data to understand the market better. It's a smart move after recognising the underutilization of pre-existing assets in the market.
Today, they are ensuring that there is full asset utilisation to everyone's satisfaction — full truckloads from point A to B, and also when the truck returns from B to A. A difficult industry to change overnight, essentially due to the fragmented nature, Blackbuck aims to establish a system that will set a benchmark for the future.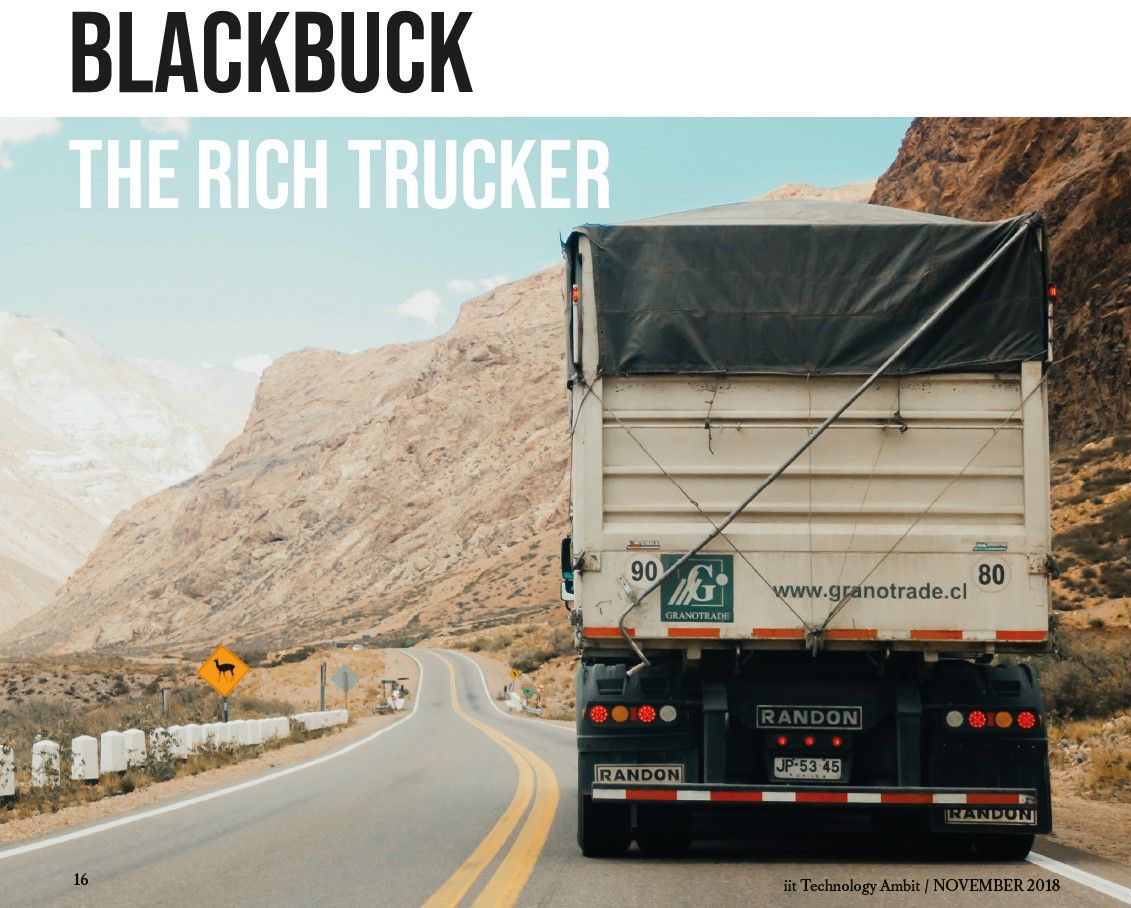 Rajesh Yabaji, an alumnus of IIT Kharagpur resigned his job at ITC in December 2015 to start Blackbuck with co-founders, Ramasubramaniama senior executive at Miebach Consulting Pvt. Ltd with 17 years of experience in logistics and Chanakya Hridaya- a former ITC executive and alumnus of IIT Kharagpur. Having already understood the problems in the sector while working at ITC in supply chain transformation, the trio led by Yabaji, believed that they had the right fix for the ecosystem. They agreed that the best path forward was to first create a demand for trucks at various industries and deliver a good supply of trucks to them through their platform.
Truckers who understood the ease of adopting technology in their execution process were happy to come onto their platform thereby ensuring a good supply of trucks. Businesses post their requests to ferry their cargo and the truckers can bid for them on the platform. This brings transparency in price discovery and ensures complete execution of all processes such as GPS-enabled route optimization, tracking, tolling, e-verification, payment etc. online. Most importantly it removes the manipulative middlemen from the process. Neat organization at the drivers' end not only provides them an economic stability but also provides an incentive for more drivers to join in.
The plan was set but the initial barriers were quite daunting. With no companies offering inter-city projects, Blackbuck had to settle for intra-city transportation for PepsiCo Inc; quite different from what they set out to do.
However, in April 2015, they closed a Series A funding of $5 million from Accel Partners and Flipkart which gave Blackbuck renewed vigour. By the time they received another $25 million in Series B funding from Tiger Global, a New York-based hedge fund, Blackbuck had 8 big clients including Hindustan Unilever Limited, Jyothy Laboratories, Hindustan CocaCola Beverages, AMUL, Haldia Petrochemicals Limited, Godrej Consumer Products Limited, Asian Paints, ITC Limited, Marico and Britannia. etc. Blackbuck also tied up with oil companies, tyre makers, financial institutions among others, who refer the company to their clients, the truck owners.
Blackbuck apps include Blackbuck BOSS, Blackbuck Blaze: Find Trucks, and e-Way Bill - Easy process to generate e-way bill. These apps collectively help orchestrate the marketplace platform for freight where shippers and fleet operators can engage seamlessly. Charging a commission of 10-20 percent per booking, Blackbuck today 9000+ clients, 2,00,000+ partner trucks and a presence in over 1000+ locations in the country.
However, the B2B logistics market is being eyed by giants like Mahindra and Mahindra, who launched SmartShift, a bidding app for transporters to connect directly to businesses. Other prominent players in freight logistics include Locus, Locanix, ElasticRun, 4tigo Network Logistics etc.
Another big logistics player in the space that can be considered direct competition for Blackbuck is Rivigo. Contrary to Blackbuck, Rivigo, another logistics company based out of Gurgaon is using a driver relay model to produce unparalleled delivery times. In this way they also ensure that the driver spends less time away from his family. As of October 2018, both Rivigo and Blackbuck are well-funded having received Series D funding.
The Blackbuck team understands logistics to be a global problem and they aim to set foot out into the world after properly understanding the case in India. In the short term, the team aims at targeting a 1 percent market share of the trucking industry, with all trucks running every day generating a revenue of close to $2 billion in the next few years.