Communication through messages seems to be the most straightforward way to get things done today, ranging from interaction with friends and relatives to sharing official info, so why can't instant messaging be used to ease out the process of purchasing any product online. LimeChat helps D2C companies fast-track their growth using the world's first level 3 conversational AI. Their virtual assistant guides customers with personalized product discovery on various messaging channels like WhatsApp and makes checkout seamless.
An entrepreneurial mindset
"To win without risk is to triumph without glory." ~ Corneille
LimeChat was founded in 2020 by two computer science graduates from IIT Delhi, Nikhil Gupta, and Aniket Bajpai. "Both of us were batchmates of the 2014 entry batch, and we did our majors in artificial intelligence and machine learning during our undergraduate years at IIT Delhi. Aniket further pursued this research for six months in MIT", says Nikhil. Both were passionate about entrepreneurship even during their undergraduate years and wanted to build something using their background of research in AI and ML. They commenced their entrepreneurship journey with a start-up called Konscience, where their first product, "Kranti," helped create Insights and Filters news content for Political Elections. "The experience of our first startup was quite amazing, but it became clear that a startup in the political space could not be our long-term goal. The thrill of creating a product from scratch really excited us and kept us eager to try new entrepreneurial ideas. As a result, we made the tough decision to reject many lucrative job offers and continue on as founders." After brainstorming on different ideas, they landed on the concept of LimeChat.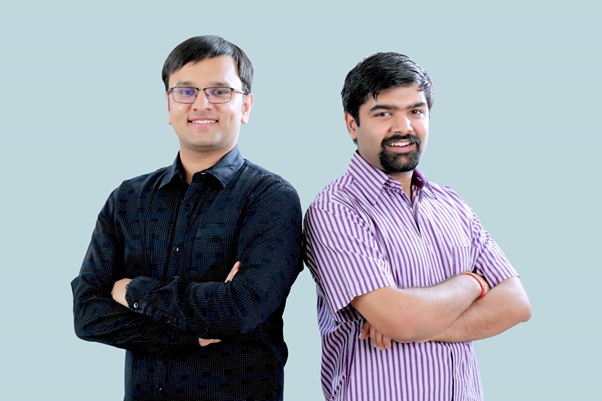 Choosing the right domain
"Ecommerce isn't the cherry on the cake, it is the new cake" ~ Jean Paul Ago (CEO L'Oréal)
There has been a dramatic transition in the last 5-10 years. People have switched from shops and supermarkets to online stores. The pandemic has added to the growth of the e-commerce sector in India. The number of D2C online stores is increasing day by day, and thus e-commerce industry continues to gain traction with market size surging exponentially. Therefore, the founders of LimeChat believed that it is best to provide services of their chatbot in this fastest-growing segment of the market. On being asked why they are restricting themselves only to e-commerce, Nikhil says, "I believe it is better to strive for being master of a field, rather than being the jack of all. We do not want our technology to be very generic; we can develop quality features only when we focus on a vertical. Owing to this D2C centric nature only, many brands look upon us for increasing their sales through bots."
Human level Chatbots
"Using chatbots in business is not a novel concept, but it's only in the last 1-2 years that chatbots have been able to automate things to a large extent," says Nikhil. The first business use case chatbots came around 2010. They used level 1 and level 2 Artificial Intelligence, but 2020 has brought a revolution in natural language processing, making it possible to build human-level chatbots in the form of level 3 AI technology.
How progressive is level 3 AI compared to level 1 and level 2? Level 1 AI technology is the simplest version of chatbots and is based on the concept of creating pre-defined buttons and matching them to pre-defined responses. This type of system does not allow customers to type freely, and thus lack of personalization begets a poor buying experience. Level 2 AI, which is marginally better than its precursors, allows customers to type freely. Still, it does not understand their concerns unless the user types a question matching exactly to some predefined one.
Moreover, neither of these levels can retain information about user preferences. Level 3 AI can understand most of the user queries and respond to even unexpected or grammatically incorrect inputs. It can also retain prior information of customer preferences, and such contextual conversation provides them a sublime buying experience.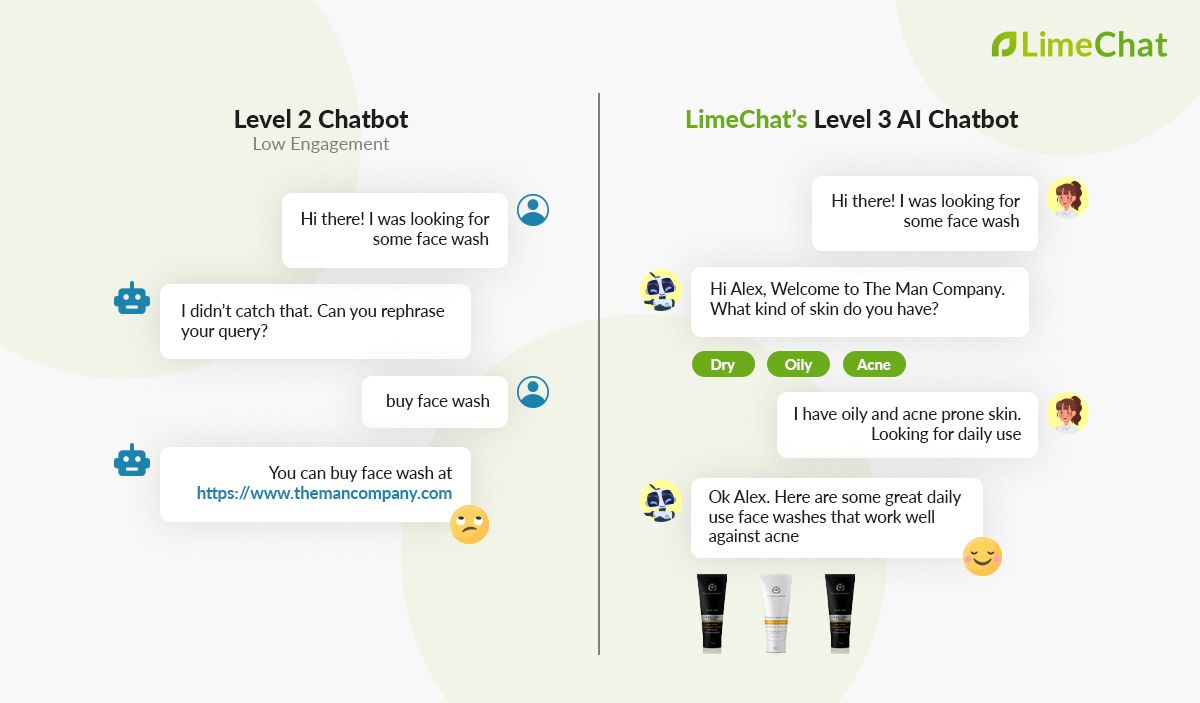 How LimeChat works with any brand?
"The only way a newborn startup can survive is when it listens and works upon its customers' needs. We have good relations with our customers and take their feedback almost every week. It's there we perceive common issues and ideate features that could resolve them" ~ Nikhil Gupta (Founder LimeChat)
Nikhil explains, "Once a brand ties up with us, we have to work very closely with them. It is a very hands-on implementation process as every company is different. We can only build good automation if we understand their needs, requirements, and workflows very well." LimeChat's team works within an implementation period and builds these chatbots and custom systems that automate their workflow in nearly a week. "We take these primary systems live after a week or two and analyze how the customers interact with them. Our bots also have a feature called online learning: they mark issues themselves wherever they are getting disorientated. This allows quick engineering updates and our bots become smarter after every conversation they handle." The team collects and analyses data after 2-3 weeks and, upgrading the systems further, comes up with a better version of the bot, increasing the automation, for instance, from 50% in the first week to 75% in the better version.
Solutions offered by the multidimensional Chatbot
Nikhil talks about how they adapted their technology with foresight of futuristic goals, "Honestly speaking when we started, we had thought that our tech would serve the purpose of customer support, but when we saw that out of 100 queries, 50 of them were linked to the inquiry of a product, we quickly anchored to increase the sales of a brand through our bot." As a result, today, LimeChat can address multiple concerns of brands, for instance: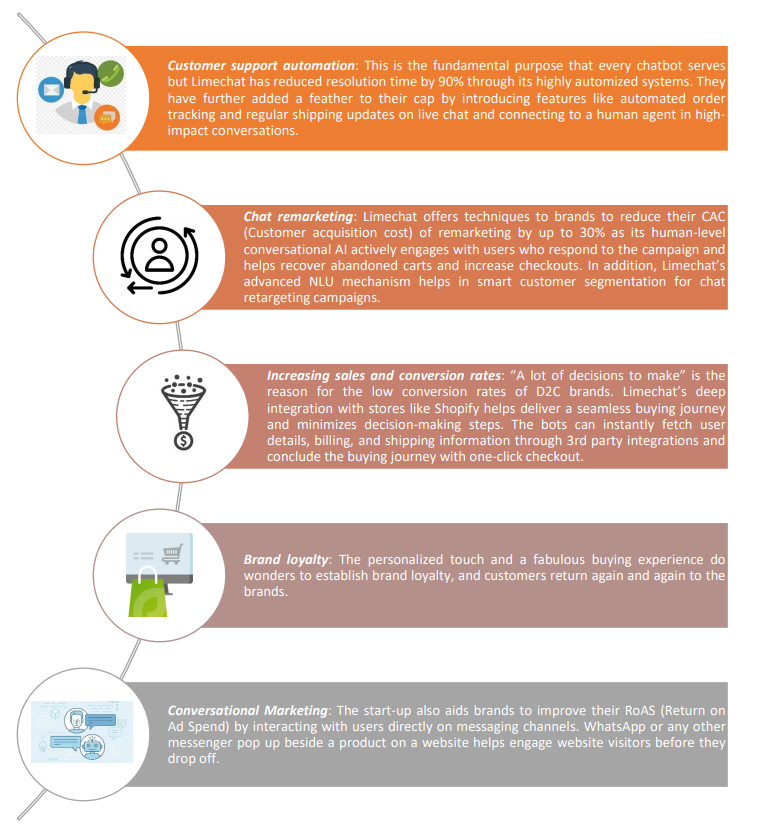 Market leaders in the era of personalized e-commerce
"It is not about ideas. It is about making ideas happen." ~ Scott Belsky (Behance Co-founder)
Passionate efforts and potent ideas yield positive results. Today LimeChat is trusted by many leading brands like Man Matters, Nissan, Mamaearth, and many more. Further, Nikhil discusses about their investors, "We are fortunate to work with some outstanding investors. Even before we started LimeChat, we received funding from Titan capitals. The company raised $750,000 in a seed funding round led by Pi Ventures and Stellaris Venture Partners. We were very keen to partner with them owing to their great vision about AI start-ups. In addition, we were supported by a great clutch of angel investors, including Flipkart CEO Kalyan Krishnamurthy, Sujeet Kumar, Ramakant Sharma, Dilip Khandelwal, and others, who participated in the financing."
The company looks forward to expand further to even US market, which has an even larger pool of D2C brands. Nikhil elaborates on the long-term vision of the company, "According to me, 2021-2030, it is the decade of personalization, and personal customer journeys will define e-commerce going forward. We aim to become market leaders in this domain, and for this, we continue to endeavor to enrich personalized customer experience further."
With the explosive growth of the importance of messaging channels and e-commerce worldwide, the start-up is poised to thrive at a high compound growth rate. And it is well said, "Only those who will risk going too far can possibly find out how far one can go."