With the raging global pandemic beating its own record each day, causing potentially irrecoverable economic fallout and accounting for over 100 million jobs globally, normalcy seems a distant dream. The global economy is reeling from a monster, one that can make even the 2008 recession look like a mere dry run. Of course, the invisible virus is one thing. But let's not forget the elephant in the room: the risk of a financial heart attack.
It is too early to predict the economy's course after the pandemic confidently, but a recession is clearly inevitable. The global market was already shaky in 2019 and now deliberately shutting down the world's major economies sure doesn't help the cause. What started with the breakdown of oil talks and Saudi Arabia's announcement of a price war is now a full-blown economic fallout. No one alive has seen a crisis of this nature and magnitude before. The perfect policy and ideology to deal with such a conundrum is still an active debating point among epidemiologists. It is not right to expect the government to come up with a solution magically. The fact is that bureaucracies themselves have little to no experience dealing with low-probability, high-stakes biomedical risks like pandemics. They sit awkwardly between the conventional silos of modern governance and mathematical models of risk assessment.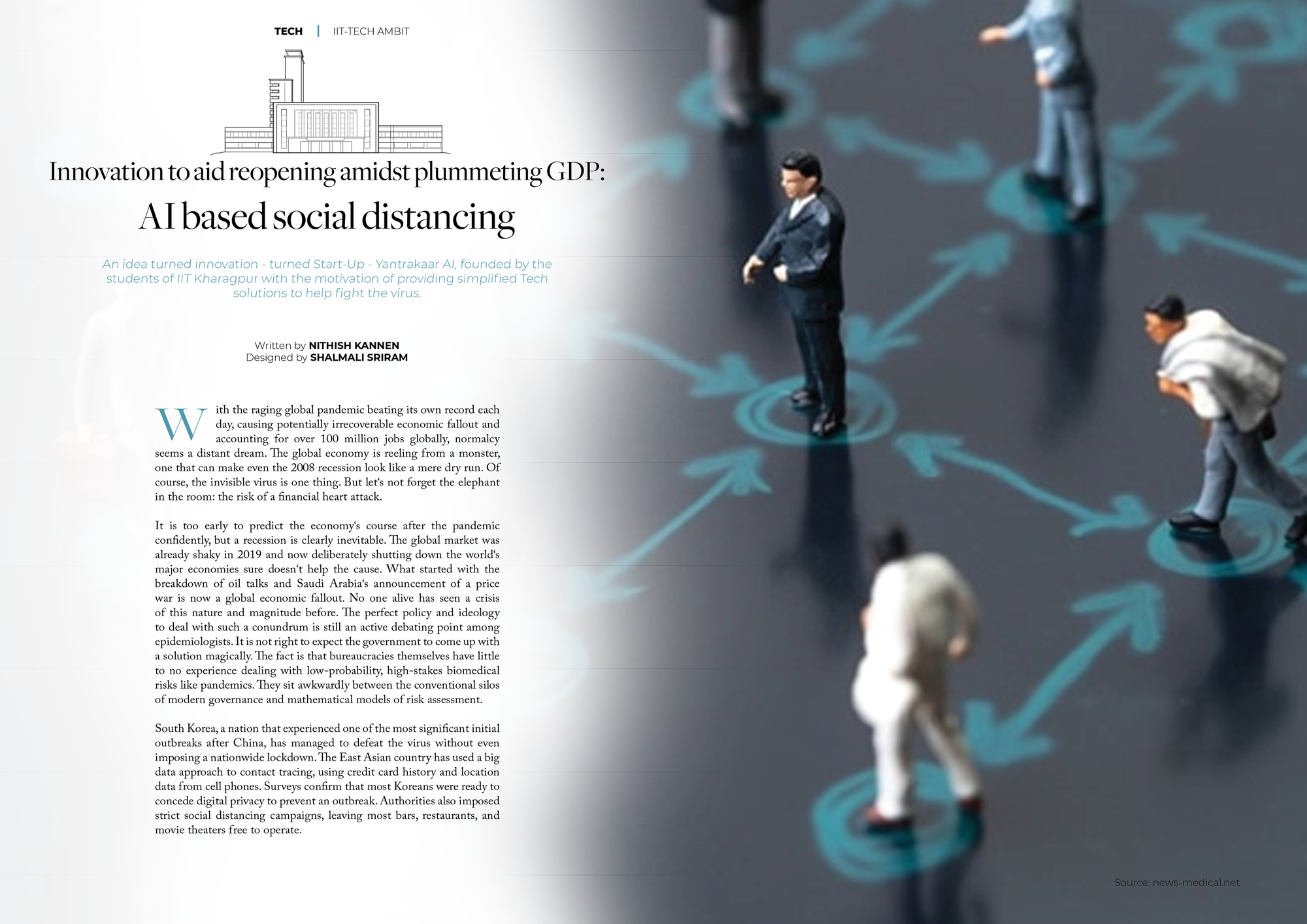 South Korea, a nation that experienced one of the most significant initial outbreaks after China, has managed to defeat the virus without even imposing a nationwide lockdown. The East Asian country has used a big data approach to contact tracing, using credit card history and location data from cell phones. Surveys confirm that most Koreans were ready to concede digital privacy to prevent an outbreak. Authorities also imposed strict social distancing campaigns, leaving most bars, restaurants, and movie theaters free to operate.
The recent Wuhan pool party might have managed to lift a few sunken spirits — given that Wuhan is claimed to be the origin of the virus. China imposed one of the strictest lockdowns the world has ever seen. Beijing embarked on one of the most extensive mass mobilization efforts in history, closing all schools, forcing millions of people inside. Drones hovered above streets, forcing people to get inside their homes. Chinese facial recognition software (which was discussed in detail in 'The Dating Paradigm'') linked to a mandatory phone app, color coded people based on their contagion risk. Spain, Germany, Italy, the United Kingdom, and other European nations have had their own models to combat the deadly virus. While there is no correct way of doing this — the chance of a model from one region succeeding in totally a different geography is obviously bleak. But one feat is common to all success stories: 'effective enforcement of social distancing.'
The effectiveness of social distancing in containing the spread of the virus cannot be stressed enough. By now, all of us have come across numerous news articles and medical research highlighting social distancing as the single most potent weapon against the disease spread.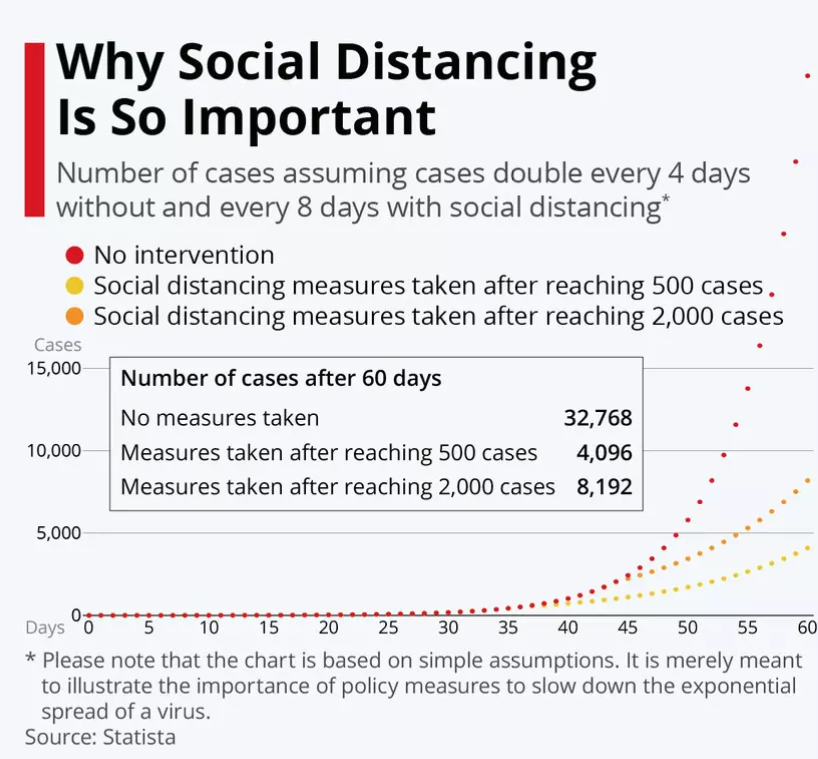 While most countries that have the spread in check have figured out an efficient and elaborate way to enforce social distancing. But the situation in India is, as always, unique:  India is a country with more than 1.3 billion people and a population density of 464 per sq. km - in China, the world's most populous country, it is 153, in the US, it is 36, and in Russia, it's just 9. An average Indian family has five members, and 40% of all homes - that is, 100 million households - have only one room. In a country like India, social distancing is a mere oxymoron. You might wonder how South Korea, with a higher population density (527 per sq. km) than India managed to enforce social distancing — apparently, their style of tunneled, semi-basement homes come handy (inserts PARASITE theme).
On a serious note, it's not just the homes; most of our workplaces aren't designed for a pandemic - like situation. Most of the Indian workspaces are cramped and poorly ventilated. It seems nearly impossible to enforce human distancing in a factory with over a thousand laborers cramped over a few acres of land. Given how many of us we are, the Indian marketplace, places of worship, eateries, and literally every other place we go to is designed to accommodate maximum number of people in a given area. Is it even possible to keep people 2 feet apart in public places, let alone 6 feet?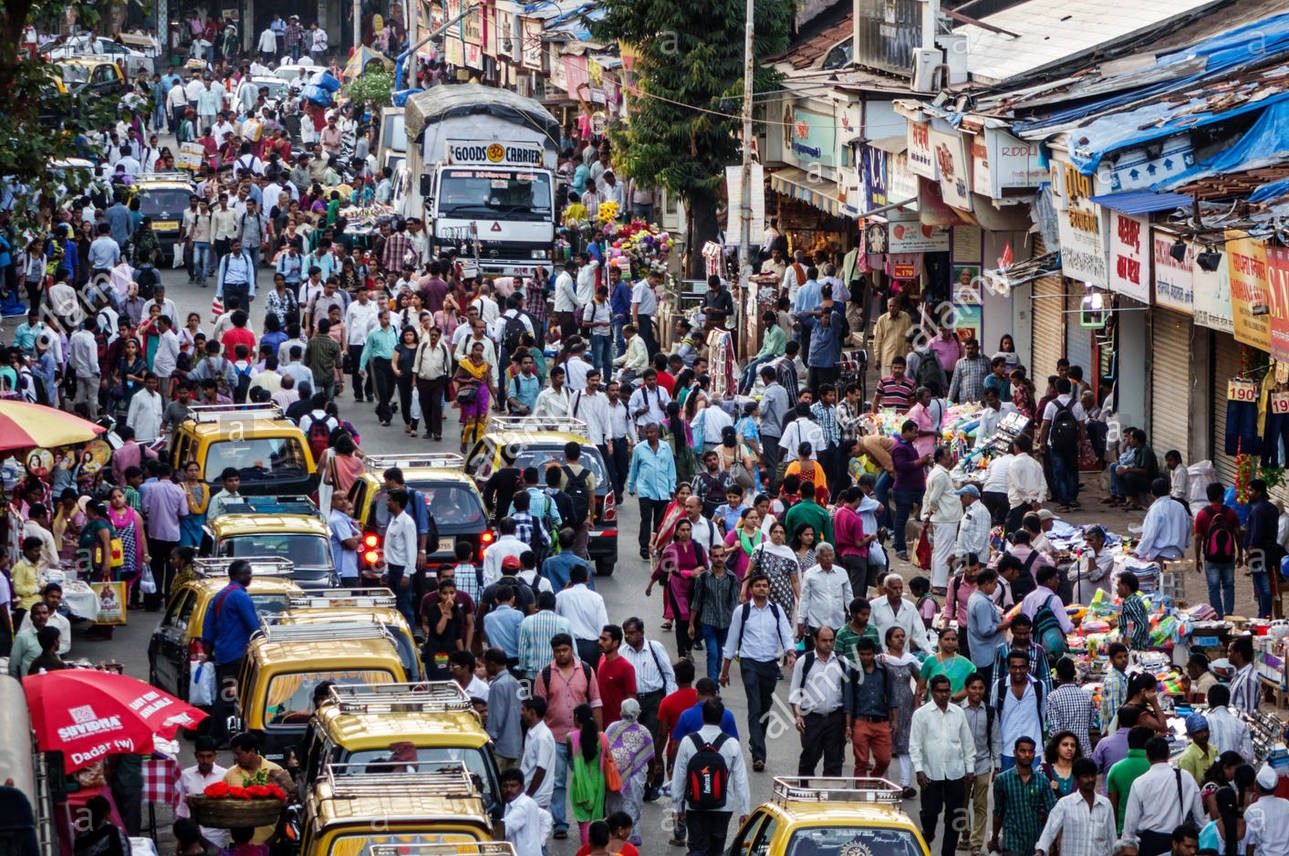 The reason why an external Social distancing monitor is crucial for a country like India becomes apparent in just a visit to a market in your neighborhood; a simple 'device,' per se, one that probably notifies people or ensures that ' Social Distancing' is something that runs in the back of people's mind while they go about doing their everyday activities. This device can essentially alleviate all the problems discussed above: can get people to their workplaces safely and back, can ensure safety in workplaces, can initiate reopening of public places such as malls and markets, and eventually help us take a giant step towards the revival of our plummeting economy. Obviously, a technology intervention is called for.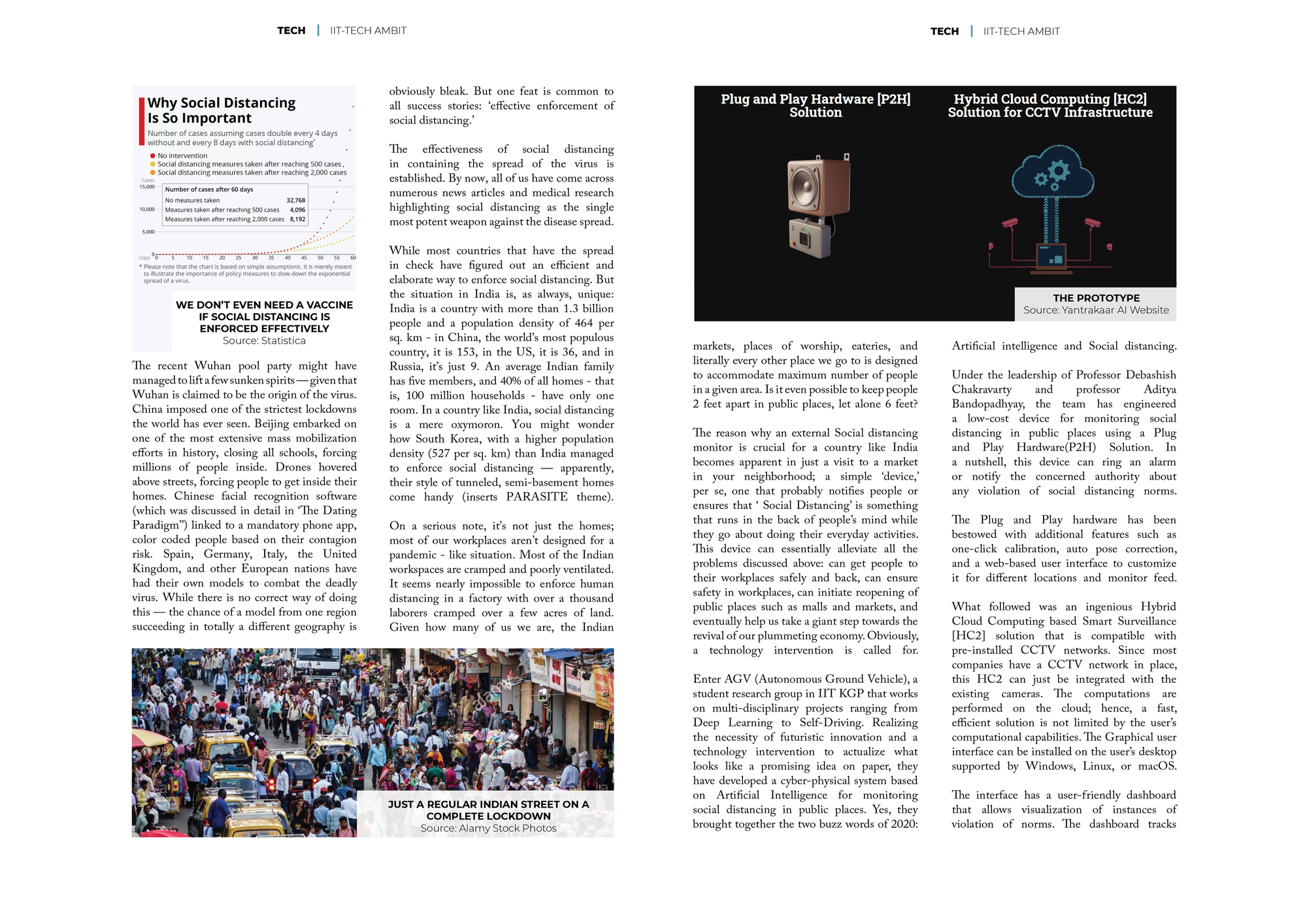 Enter AGV (Autonomous Ground Vehicle), a student research group in IIT KGP that works on multi-disciplinary projects ranging from Deep Learning to Self-Driving. Realizing the necessity of futuristic innovation and a technology intervention to actualize what looks like a promising idea on paper, they have developed a cyber-physical system based on Artificial Intelligence for monitoring social distancing in public places. Yes, they brought together the two buzz words of 2020: Artificial intelligence and Social distancing.
Under the leadership of Professor Debashish Chakravarty and professor Aditya Bandopadhyay, the team has engineered a low-cost device for monitoring social distancing in public places using a Plug and Play Hardware(P2H) Solution. In a nutshell, this device can ring an alarm or notify the concerned authority about any violation of social distancing norms.
The Plug and Play hardware has been bestowed with additional features such as one-click calibration, auto pose correction, and a web-based user interface to customize it for different locations and monitor feed.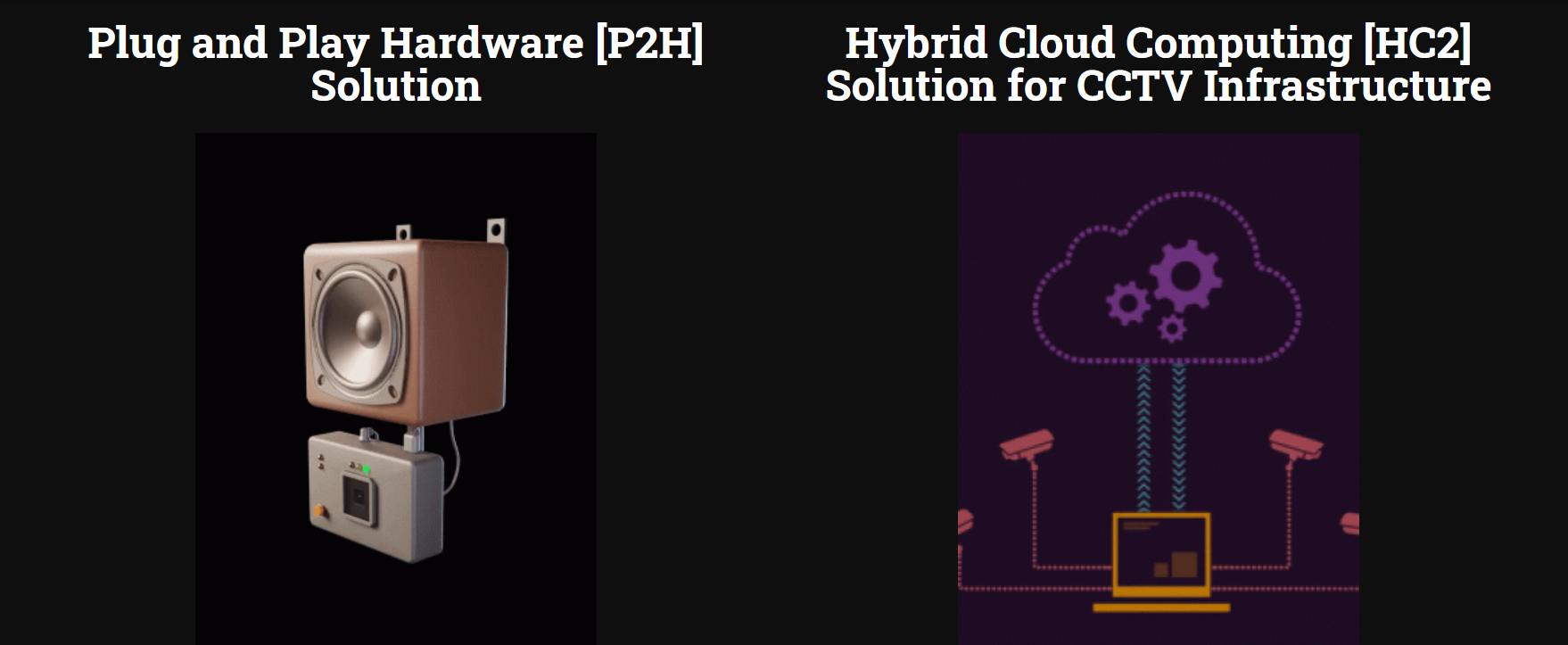 What followed was an ingenious Hybrid Cloud Computing based Smart Surveillance [HC2] solution that is compatible with pre-installed CCTV networks. Since most companies have a CCTV network in place, this HC2 can just be integrated with the existing cameras. The computations are performed on the cloud; hence, a fast, efficient solution is not limited by the user's computational capabilities. The Graphical user interface can be installed on the user's desktop supported by Windows, Linux, or macOS.
The interface has a user-friendly dashboard that allows visualization of instances of violation of norms. The dashboard tracks the number of such occurrences in a given time and records images of breaches that can be viewed in a slideshow mode.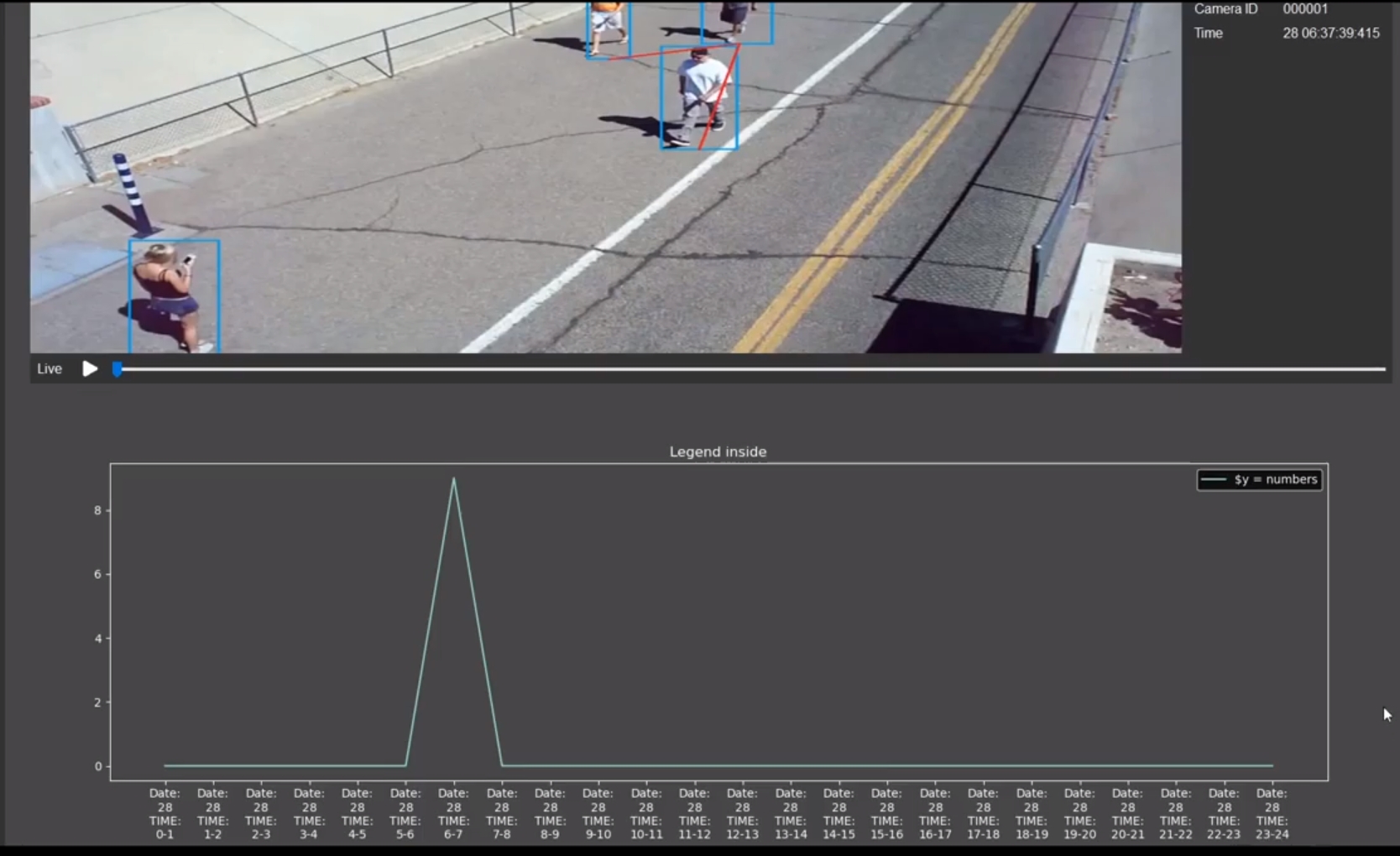 The HC2 uses various parallelism levels to enhance computational speed by allocating 50 parallel servers to each user, allowing them to integrate 150 CCTVs on a single network. This system's efficiency is further reduced by using motion-triggered object detection and computation: the users are not charged for instances of inactivity, such as instances of an empty room or a single stationary person. The HC2 solution comes with an added feature of Masked Face Detection. Companies can now penalize their employees for reasons that would have been considered crazy half a year back!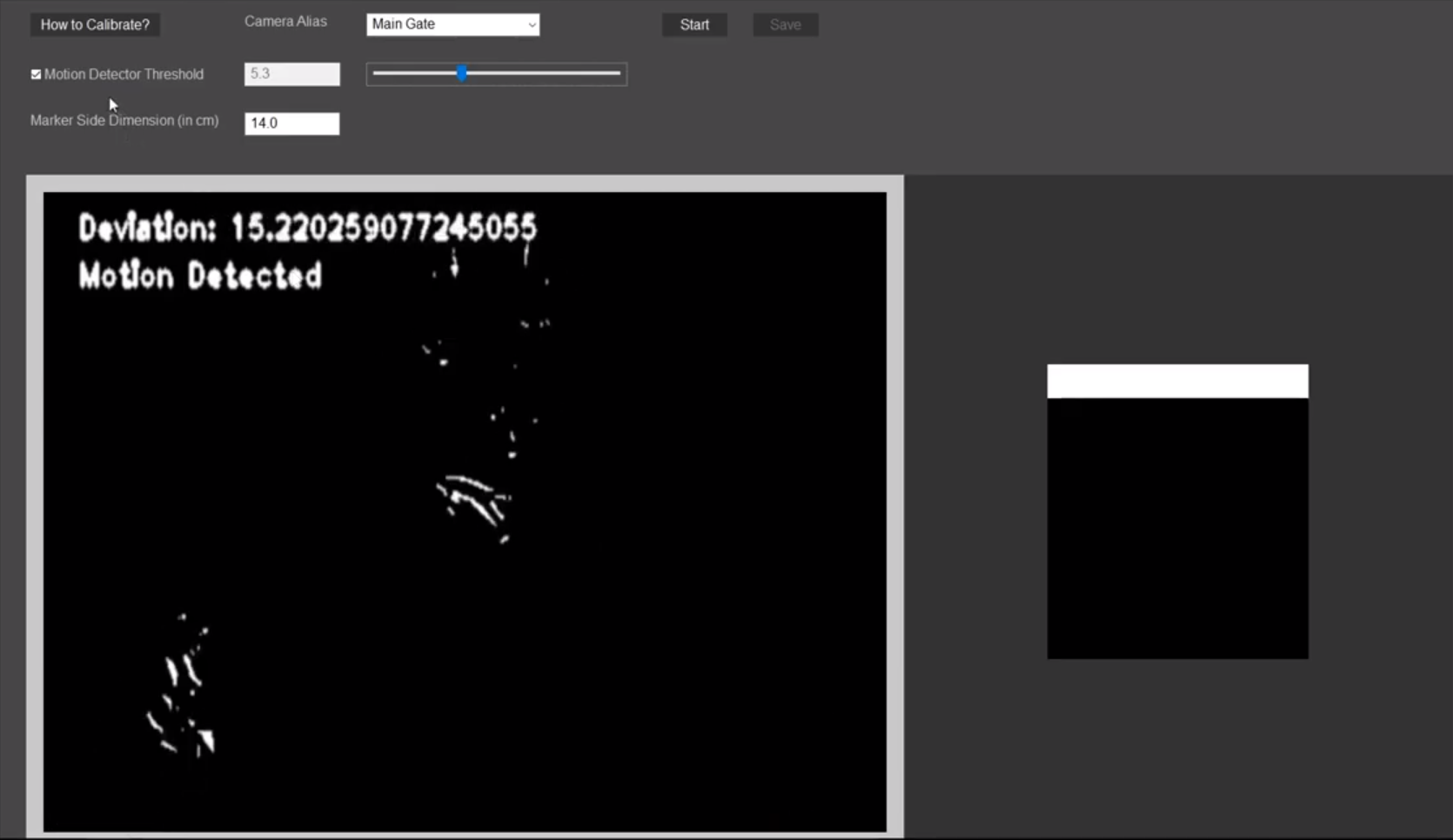 Tailor-made to suit places like India, this remarkable effort was acknowledged by popular media networks and the Minister of Education.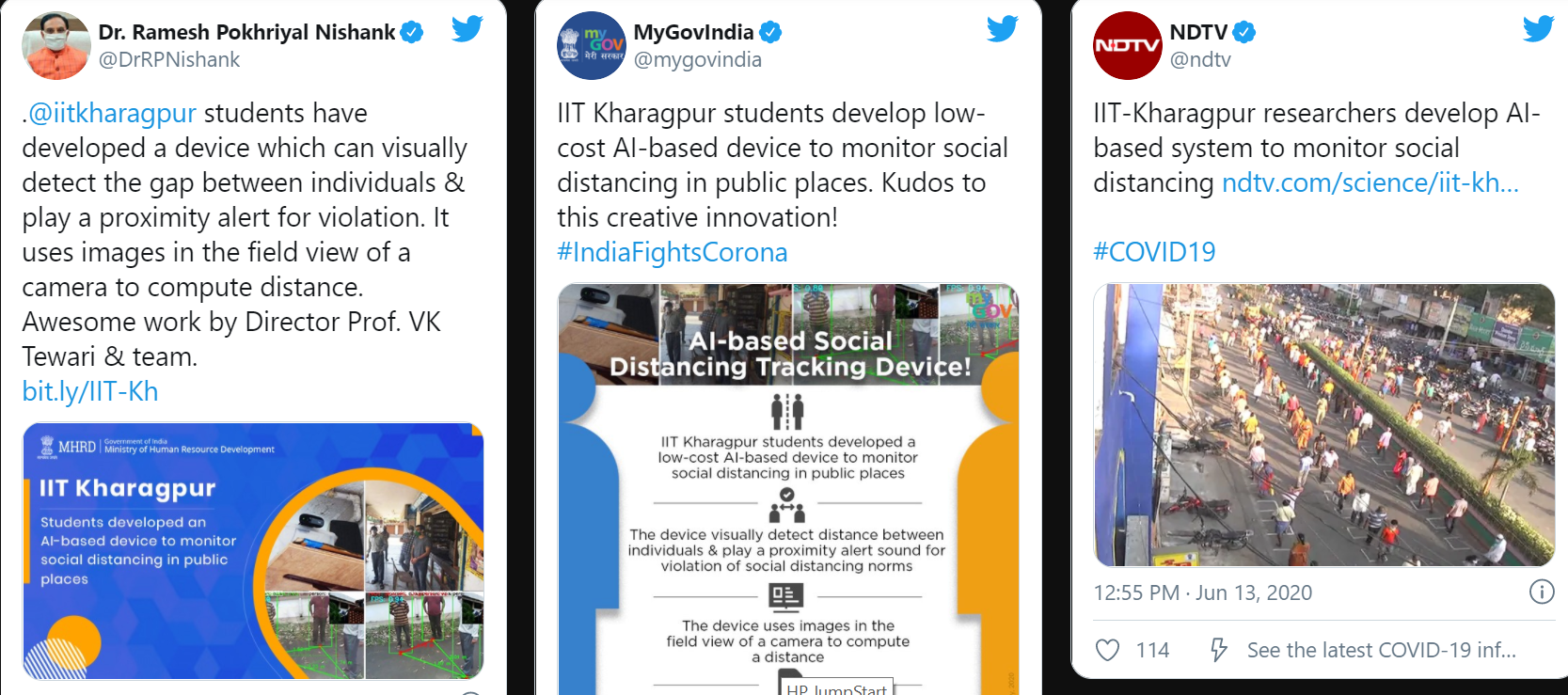 Realizing the potential in the scalability of the project in domains such as Traffic Surveillance, Industries, Workplaces, and Automation, the team leader Rishabh Singh (a 4th-year undergraduate student at IITKGP), along with a few of his teammates has founded Yantrakar AI, a start-up aimed at commercializing this product and providing other AI-based solutions primarily for industries.
The start-up has already been contacted by the energy giant, ONGC and a few Diamond and Textile industries in Surat. The startup envisions a futuristic society that leverages AI and Cloud Computing to solve its problems
Here are excepts from an interview with Rishabh Singh, Founder of Yantrakar AI :
Nithish: What was the inspiration behind the project?
Rishabh: An important factor was the convenience of development with the initial prototype because the development team was proficient in Computer Vision. Definitely some similar projects have been made before, but none have been made which is so user- friendly that is affordable and can be scaled easily. The optimizations methods used both at local and cloud computation level are novel, and the code is robust and can handle errors, which becomes an essential point for a commercial product.
Nithish: Briefly mention some of the roadblocks and challenges faced?
Rishabh: The major challenges that we faced were making the product affordable for use, as we involve cloud computing in our HC2 model, and we used AWS for that, which itself is too costly, so we optimized our pipeline accordingly to reduce cost as much as we can and was able to narrow down it to just Rs 9 per camera per hour. Another challenge was to make the processing in real-time and to reduce the latency as much as we can, due to the low-speed internet connection of the customer, latency tends to increase exponentially, so to control that we tried to allot multiple servers while maintaining the low cost.
Lastly, to make the software understandable to use and to bring transparency in processing was one of our major challenges so to overcome that we designed a GUI compatible with all major OS types which provide the user step by step instruction to install the software with the help of GIFs and also act as a control panel to set-up cameras and to visualize results.
Nithish: Where will this device be positioned and what is its range/effectiveness?
Rishabh: Our solution comes with dual model support (model A and model B), which are trained for different use cases. Model A supports close range cameras, which can generally be used for Indoor monitoring, located at a height up to 12m, and Model B supports long-range cameras, which are generally used for outdoor monitoring and located at a height above 12m.
Previous attempts have been made to support these kinds of models according to the specific use-cases, but we are not aware of a Dual-Model Hybrid solution like ours, that optimizes computation and offers flexibility based on use-cases for every individual camera in the network.
Nithish: What is the scope of expansion?
Rishabh: The product has a foundational architecture of smart surveillance and can be scaled to similar applications within days. For example, it took us only three days to add the Masked Face detection feature to our software, as we just need to change the detection pipeline without changing anything else. The solution is highly scalable in Traffic Surveillance, Industrial Automation, etc.
                                                         ---X---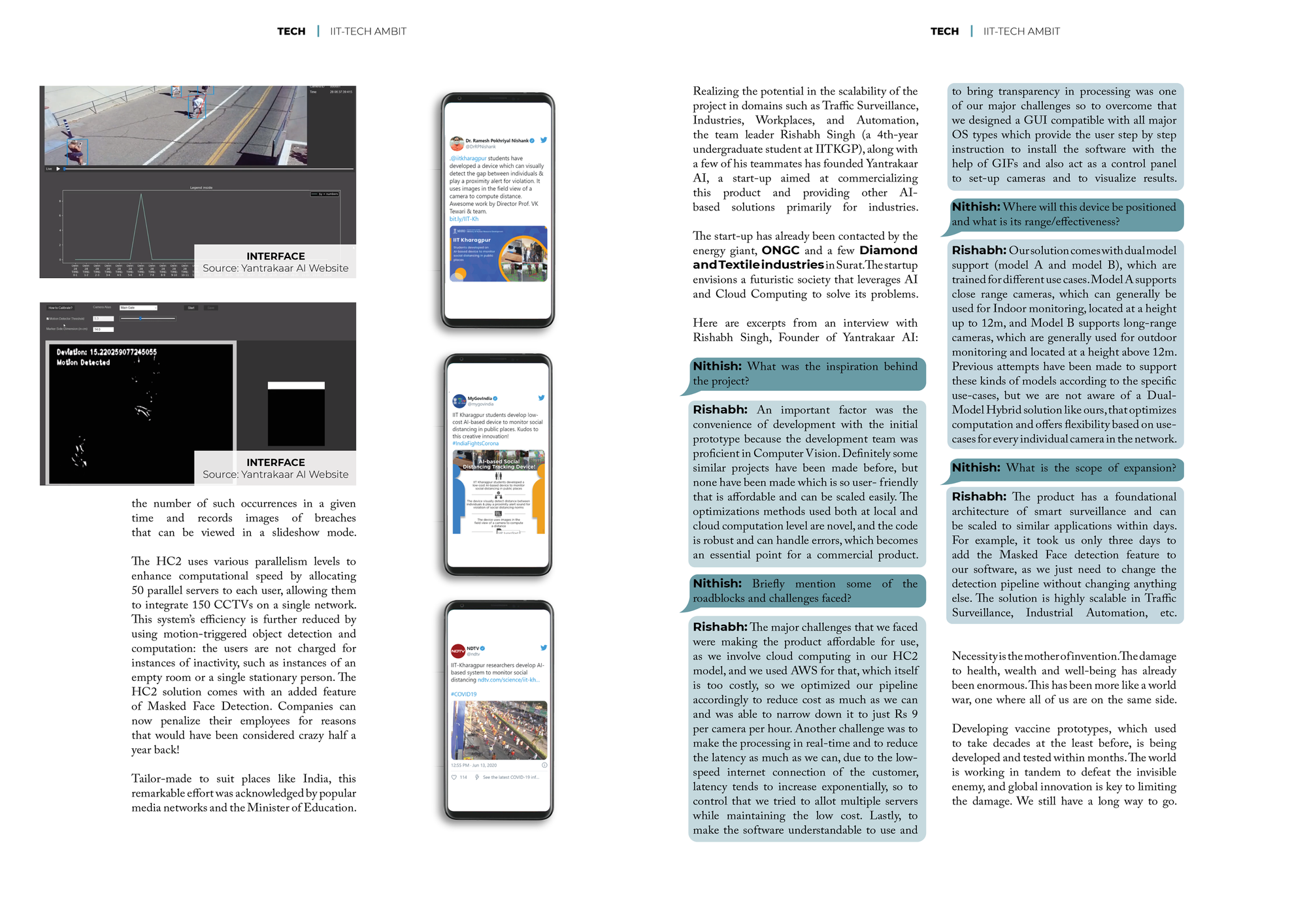 Necessity is the mother of invention. The damage to health, wealth and well-being has already been enormous. This has been more like a world war, one where all of us are on the same side.
Developing vaccine prototypes, which used to take decades at the least before, is being developed and tested within months. The world is working in tandem to defeat the invisible enemy, and global innovation is key to limiting the damage. We still have a long way to go.