In the United States, around 91% of the total population is covered under health insurance. Now, you might think that a nation with such expenditure and coverage of health for its citizens has all things sorted. But all that glitters is not gold!

India is a land full of opportunities for players in the healthcare industry. Owing to the country's humongous population and increased consciousness towards a healthy lifestyle, the healthcare industry is poised to reach USD 134 Bn by 2022. There is significant scope for enhancing healthcare services considering that healthcare spending as a percentage of Gross Domestic Product (GDP) is rising.
The government's expenditure on the health sector has grown to 1.4 per cent in FY18 from 1.2 per cent in FY14. In September 2018, Government of India launched the Pradhan Mantri Jan Arogya Yojana (PMJAY), to provide health insurance worth INR 500,000 to over 100 million families every year. The scheme is being touted as the largest public healthcare scheme across the world. Furthermore, the BJP-led government promises to increase public health spending to 2.5 percent of the country's GDP by 2025.
For a country like India, the numbers I mentioned above surely seem humongous. But if you are someone who knows a thing or two about the U.S Healthcare space, you can easily spot that we are following their footsteps. But consider this - India has a 3x population as compared to the United States, and the latter has been working on healthcare reforms since 1965.
For starters, in 2017 the U.S. health care spending reached USD 3.5 trillion or USD 10,739 per person. As a share of the nation's Gross Domestic Product, health spending accounted for 17.9 percent. To put that into perspective, India has a Gross Domestic Product of USD 2.9 trillion!
In the United States, around 91 percent of the total population is covered under health insurance. Now, you might think that a nation with such expenditure and coverage of health for its citizens has all things sorted. But all that glitters is not gold!
This story is not about how the U.S Government has spent trillions of dollars on public health to improve the livelihood of its citizens, but it's about how technology has presented itself to reduce the cost of healthcare significantly. In a nutshell, the story is about two IIT Kharagpur alumni who are using predictive analytics and big data to rapidly transform the face of the USD 1 trillion healthcare IT market.
Haywire in U.S Healthcare
As you all might know, the U.S Government has made it mandatory for healthcare organizations to digitize all the patient records. As each step in the healthcare chain is digitized, healthcare providers are accumulating huge amounts of data (patient names, medical history, diseases, prescriptions, diagnostic tests, medical insurance, etc.). However, storing and managing the data of around 300 million people in a manner that is helpful to the healthcare provider is immensely challenging because of its sheer size and cost entailed.
Moreover, public healthcare expenditure has increased from USD 150 to USD 10,000 (per person) in a span of 40 years! The major reason behind the increase in expenditure is the fact that all healthcare organizations usually operated on a fee-for-service model, meaning that the patient is covered for all the test/diagnostics that the healthcare professional orders, even if those diagnostics are not required! For example, a primary care physician can also order diabetes tests along with an X-Ray for a person who is visiting for back-pain because the government-funded insurance will cover all the expenses.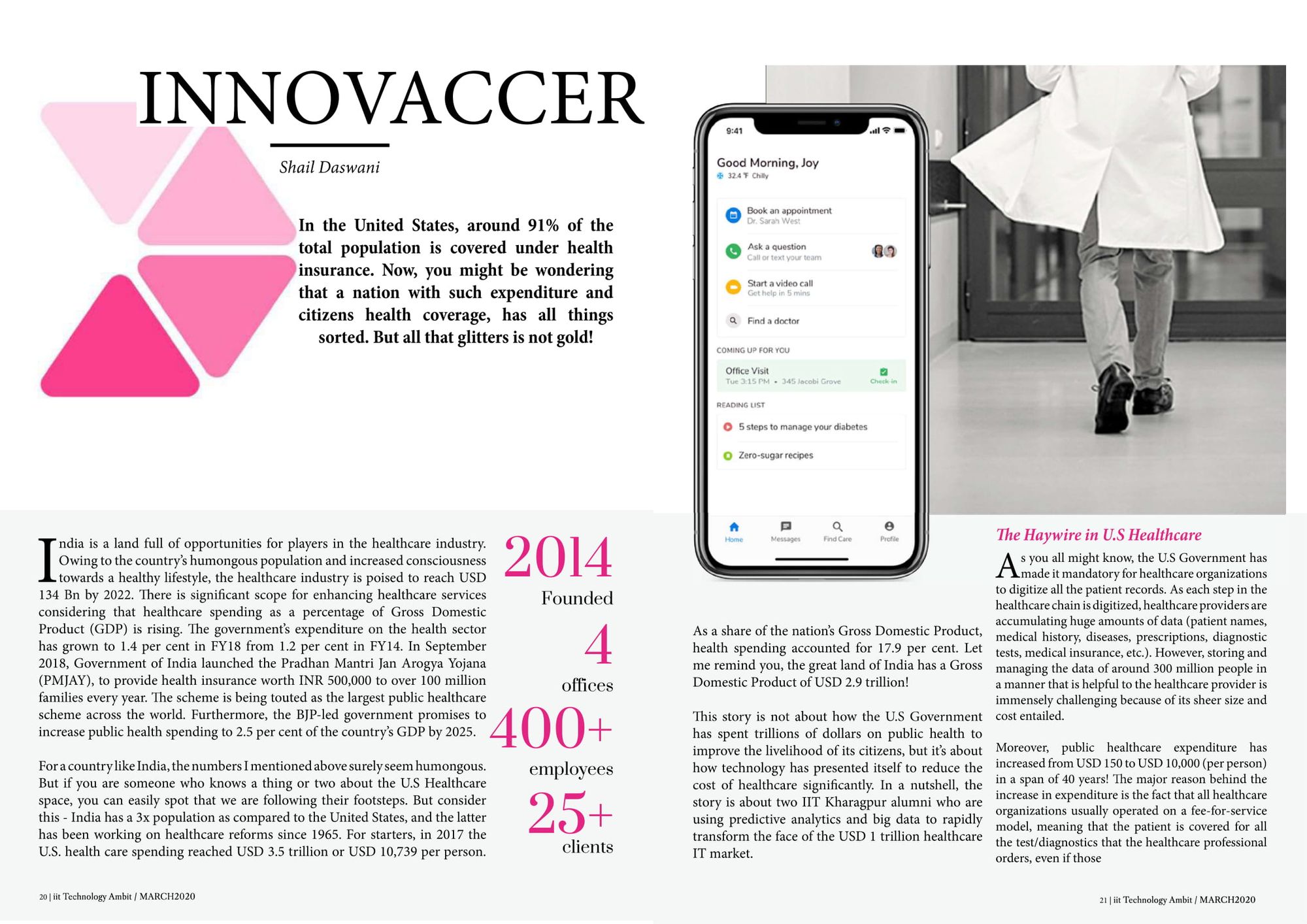 A McKinsey report quoted - "After more than 20 years of steady increases, healthcare expenses now represent 17.6 percent of GDP —nearly $600 billion more than the expected benchmark for a nation of the United States's size and wealth."
This emphasizes that expenses in healthcare are rising at an alarming rate, and therefore in its attempt to reduce healthcare costs and prioritising quality care, the government passed the Affordable Care Act in 2010. It focuses on a value-based care model meaning that hospitals will be paid for the value that they provide to the patient, not for the services that are listed on their billing systems.
Enter Innovaccer - The Healthcare Data Activation Platform
Co-founded by Abhinav Shashank, Kanav Hasija, who were batch mates in IIT Kharagpur, and Sandeep Gupta, who worked with Abhinav at Ingersoll Rand, the co-founders realised that data across industries was growing, and it would soon assume a central role in developing smart strategies to innovate, but there was only one problem.
This data was distributed across multiple large systems and had to be combined, crunched, and analysed in real-time, to deliver an in-depth understanding of looming problems and driving innovation. And that's exactly what Innovaccer's big data platform enables today.
Their first flagship product - Datashop was used across different verticals, ranging from finance and retail to entertainment and healthcare. However, they soon realised that to create a billion-dollar organisation, they had to focus on a single vertical that can drive revenues and create impact.
In 2015, Innovaccer onboarded a healthcare customer from the United States. Gradually, after spending a good amount of time, Innovaccer decided to focus solely on the healthcare market- even when it meant leaving 60 percent of their revenue on the table. The company went deeper into the market, hired subject matter experts, and validated the Product-market fit rapidly. Ever since the focus has been on providing a single product to one single problem set!
The Tech you've been impatiently waiting for
As healthcare is moving towards prioritising quality of care over plain numbers, predictive data analytics in healthcare has become more important than ever. However, most of the care settings in the developed world are using multiple variants of data repositories from different vendors which makes it tough to create an integrated data infrastructure, hence reducing the operational efficiency.
Innovaccer's mission is to help recognise high-risk patients that need attention, and offer insights to healthcare providers at the point of care - all this without asking physicians to leave their existing workflow.
Its core product is InData, which is a Hadoop-based big data platform. It collects raw data scattered everywhere and integrates it, normalises it and parses it through its algorithms to provide trends and predictions in a structured, consumable, and ready-to-use manner.
This data is hosted on a big data infrastructure that enables real-time insights for physicians and care management teams, where they can identify persons at risk, plan timely medical interventions and smoothen the caregiving process. All this is enabled in a Software-as-a-Service (SaaS) infrastructure which ensures that all the learnings via data are made available to all the customers (Healthcare organizations) in real-time.
Use Case: Understanding the impact
In an interview with Analytics India, Gupta said, "Mercy ACO (A chain of hospitals), one of the largest accountable care organisations in the Midwest US was an expansive healthcare network, based across 65+ service locations, and had more than 3,500 physicians, and looked after 3,10,000 patients. The challenge that they were facing was distributed information.
The health data for these patients was stored across 100+ clinical systems, and since these were more than 14 different brands, integrating their data feeds and standardising them was a major pain".
At this point, the organisation onboarded Innovaccer's healthcare data platform to integrate these different data feeds, address the gaps in the records, and drive better clinical and financial outcomes. Innovaccer's healthcare data platform assisted the organisation in pooling in all their data together in a single-source-of-truth.
Built on a Hadoop framework, the platform could scale as the data grew, standardise different data sets into a singular schema, and created a foundation for analytics. The team created robust algorithms that could map unique data across multiple fields, like first name, last name, address and eliminate any redundancy. Ultimately, the organisation could create unique, longitudinal records for every patient, that let them view a patient's visit history, episodes, risk scores, and all the relevant information in a comprehensive way.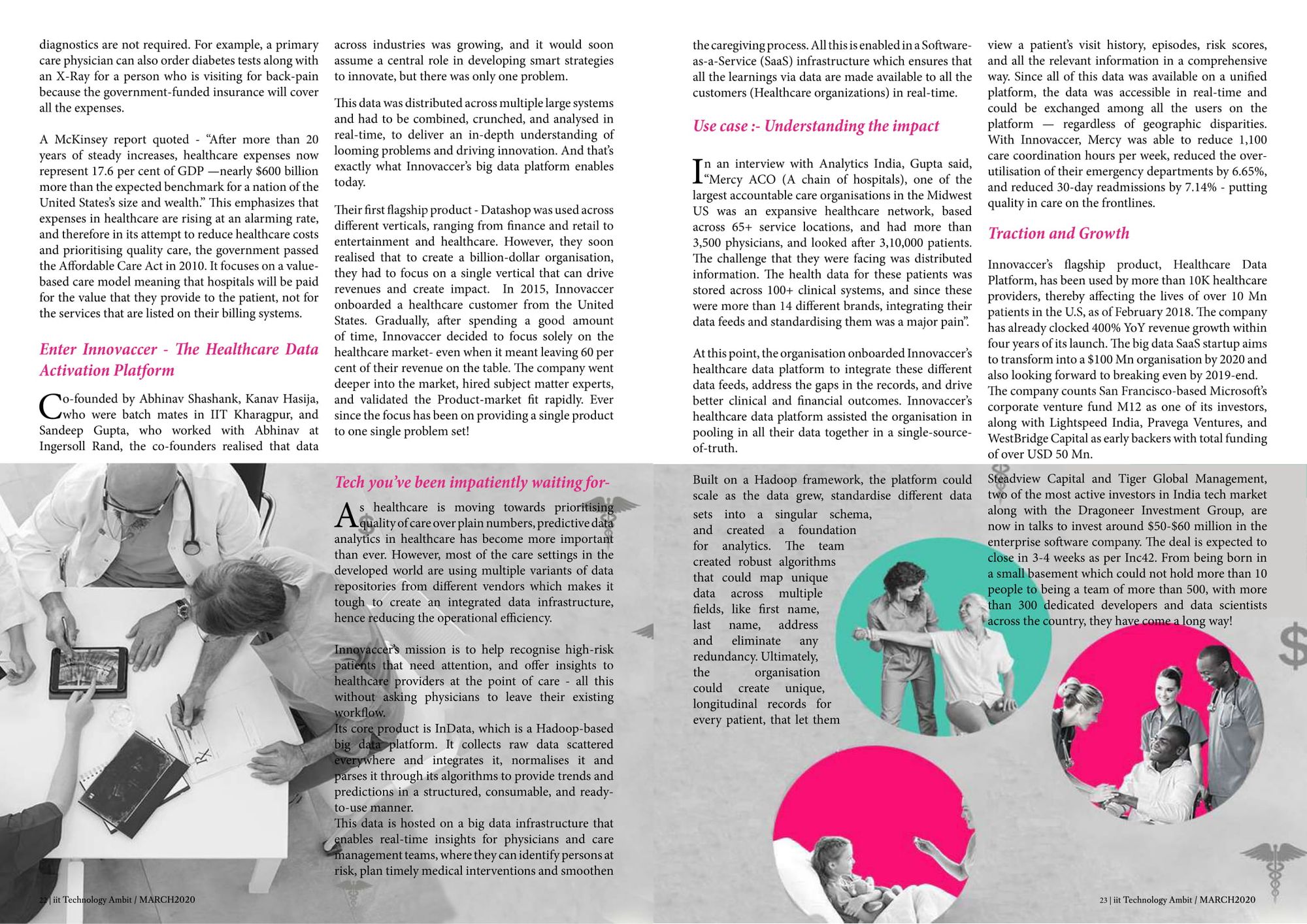 Since all of this data was available on a unified platform, the data was accessible in real-time and could be exchanged among all the users on the platform — regardless of geographic disparities. With Innovaccer, Mercy was able to reduce 1,100 care coordination hours per week, reduced the over-utilisation of their emergency departments by 6.65 percent, and reduced 30-day readmissions by 7.14 percent- putting quality in care on the frontlines.
Traction and Growth
Innovaccer's flagship product, Healthcare Data Platform, has been used by more than 10K healthcare providers, thereby affecting the lives of over 10 Mn patients in the U.S, as of February 2018. The company has already clocked 400% YoY revenue growth within four years of its launch. The big data SaaS startup aims to transform into a $100 Mn organisation by 2020 and also looking forward to breaking even by 2019-end.
The company counts San Francisco-based Microsoft's corporate venture fund M12 as one of its investors, along with Lightspeed India, Pravega Ventures, and WestBridge Capital as early backers with total funding of over USD 50 Mn.
Steadview Capital and Tiger Global Management, two of the most active investors in India tech market along with the Dragoneer Investment Group, are now in talks to invest around $50-$60 million in the enterprise software company. The deal is expected to close in 3-4 weeks as per Inc42.
From being born in a small basement which could not accommodate more than 10 people to being a team of more than 500, with more than 300 dedicated developers and data scientists across the country working with them, they have come a long way!
Written by Shail Daswani