KARMI-Bot
Kochi-based ASIMOV Robotics debuted its KARMI-Bot, an intelligent service robot for isolation wards developed under the MAKE IN INDIA initiative, with the added feature of being able to disinfect the premises using ultra-violet radiation. KARMI-Bot is capable of autonomously navigating inside the isolation ward to transport and dispense food and medical supplies for patients under care and thereby minimising human involvement.
They also can converse with the patients as well as initiate video conferencing between patients and the human caregiver from a remote location. The robot is capable of disinfecting the used items during the return journey to home station.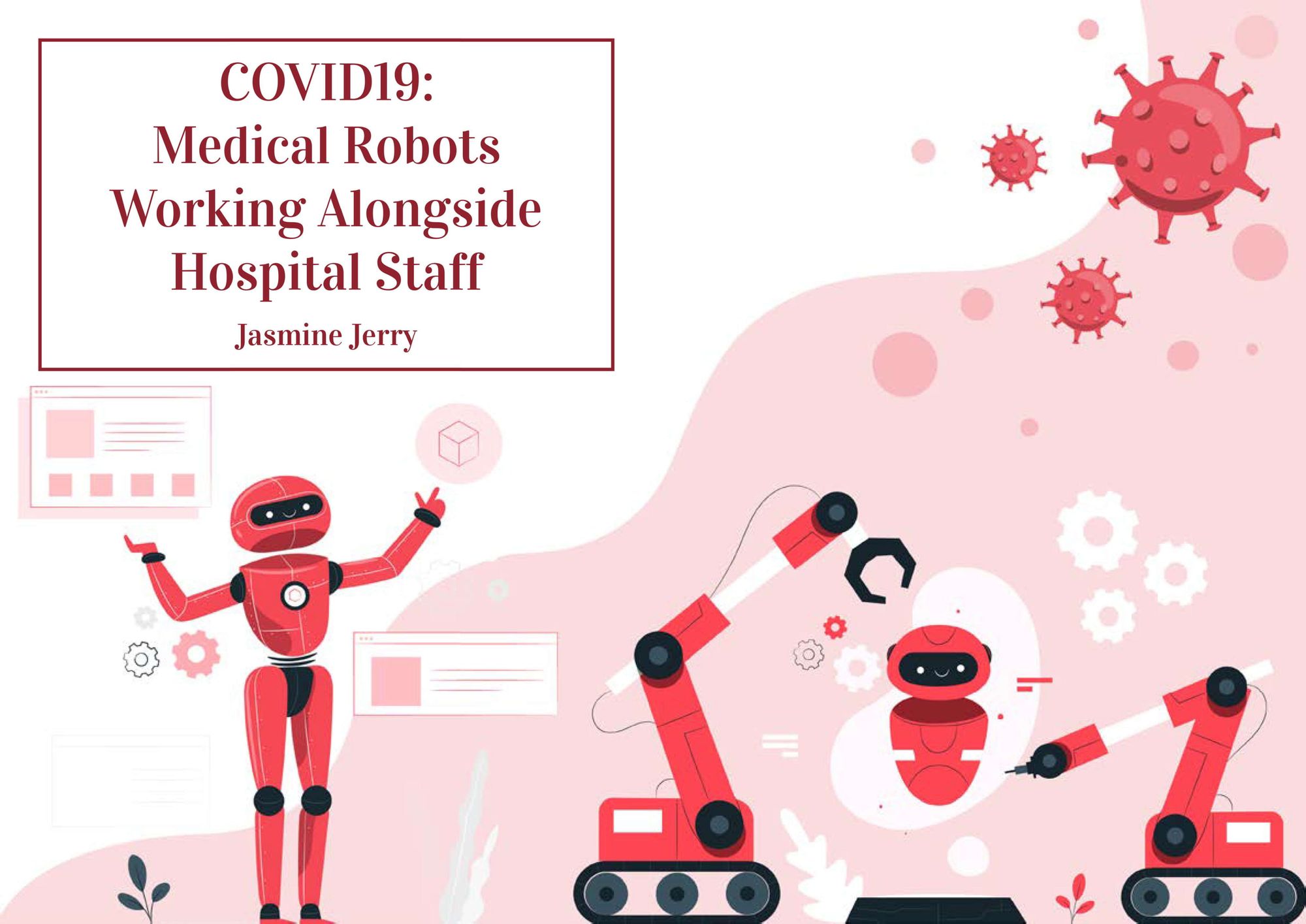 KARMI-Bot comes with an android application to monitor and control the robot in manual mode from a distance. Users can configure the destination points using a user interface from a built-in touch screen and remote monitor. In addition, KARMI-Bot is equipped with high power detergent spray for cleaning the infected areas by controlling from a remote location.
The self-charging KARMI-Bot has a maximum payload of 20 kilograms and a power backup that lasts up to 5 hours. The company grabbed attention on social media recently with a video of its two Sayabot androids dispensing cleaning materials and displaying information related to the coronavirus.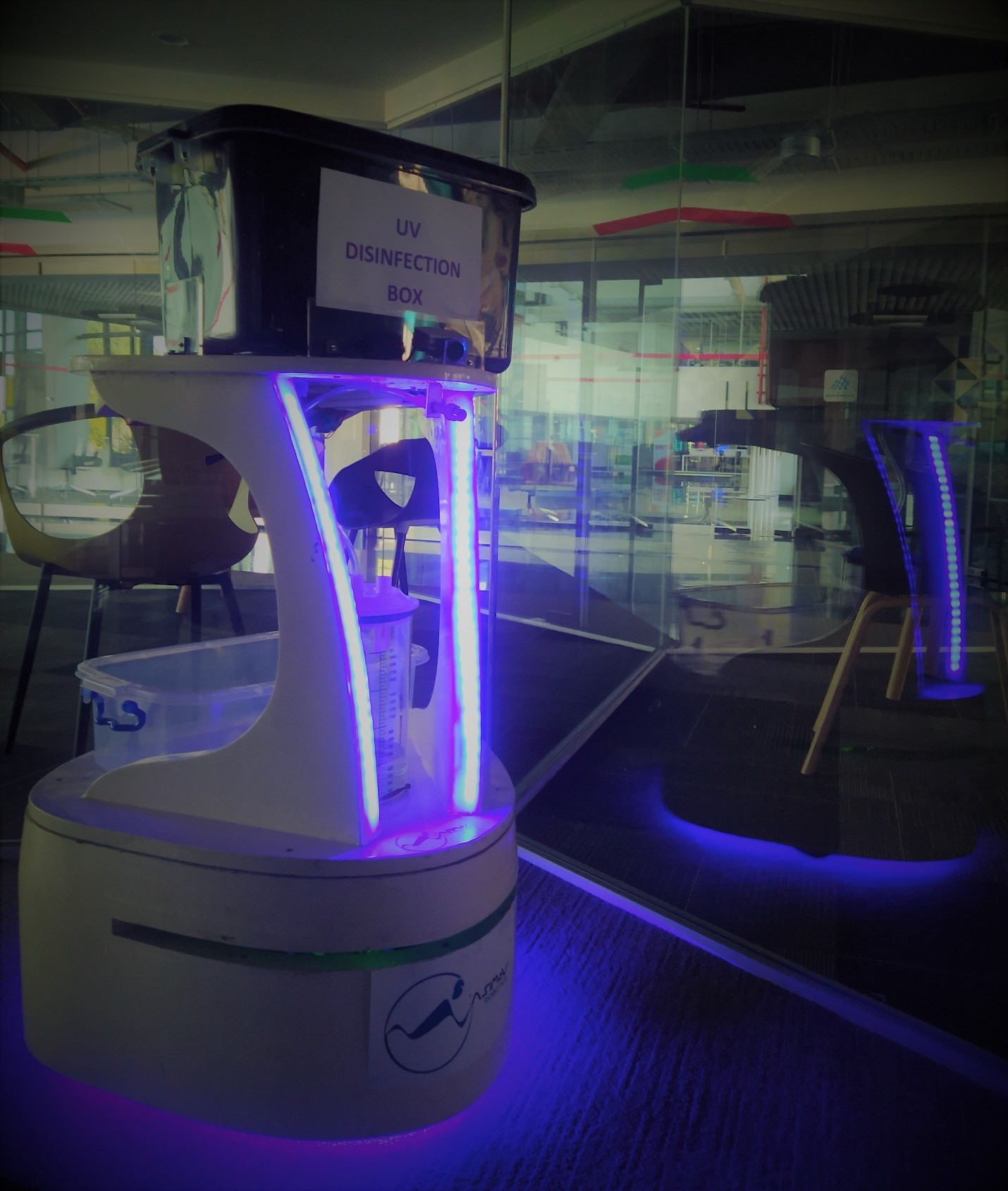 ---
Talking Tech
Tech Ambit got in touch with the founder and CEO of ASIMOV Robotics, Mr Jayakrishnan, who let us in on the details behind this wonderful feat.
What was the motivation behind KARMI-bot? When did development on the robot start?
Being a robotics company focused on medical and healthcare applications, we have always been keen on finding solutions to the difficult and dangerous problems in this area. We started development on the robot during the outbreak of Nipah virus in Kerala. When the Nipah virus came a second time to Kerala, we conceptualised an idea of performing some therapeutic and caregiving tasks inside the quarantined ICU using the humanoid robotic platform we have. This use case has also been patented.
Incedingly, COVID was reported in Kerala for the first time in India. However, despite having the information spread through visual media and news dailies, we found that the public hadn't been taking it seriously. To address this, we deployed two robots in our IT campus to spread awareness among the staff of IT  companies as well as to distribute tissue paper, sanitisers and masks. This initiative was well received, and we continued this for 2 weeks.
By this time, the situation has worsened, and most of the companies had moved on to the "work from home mode". We then decided to do something, more effective and useful.  So we planned to develop a robot for dispensing food and medicine inside the COVID ward to help the health workers and save the use of PPE kits.
How was development different for COVID-19?
Unlike Nipah, the difference we could identify with COVID-19 was that it is not as life-threatening as Nipah, but spreads much faster. Thus, we developed a cost-effective system which is easy to transport and deploy. We approached the district health administration and then got connected to the Cochin medical college medical team.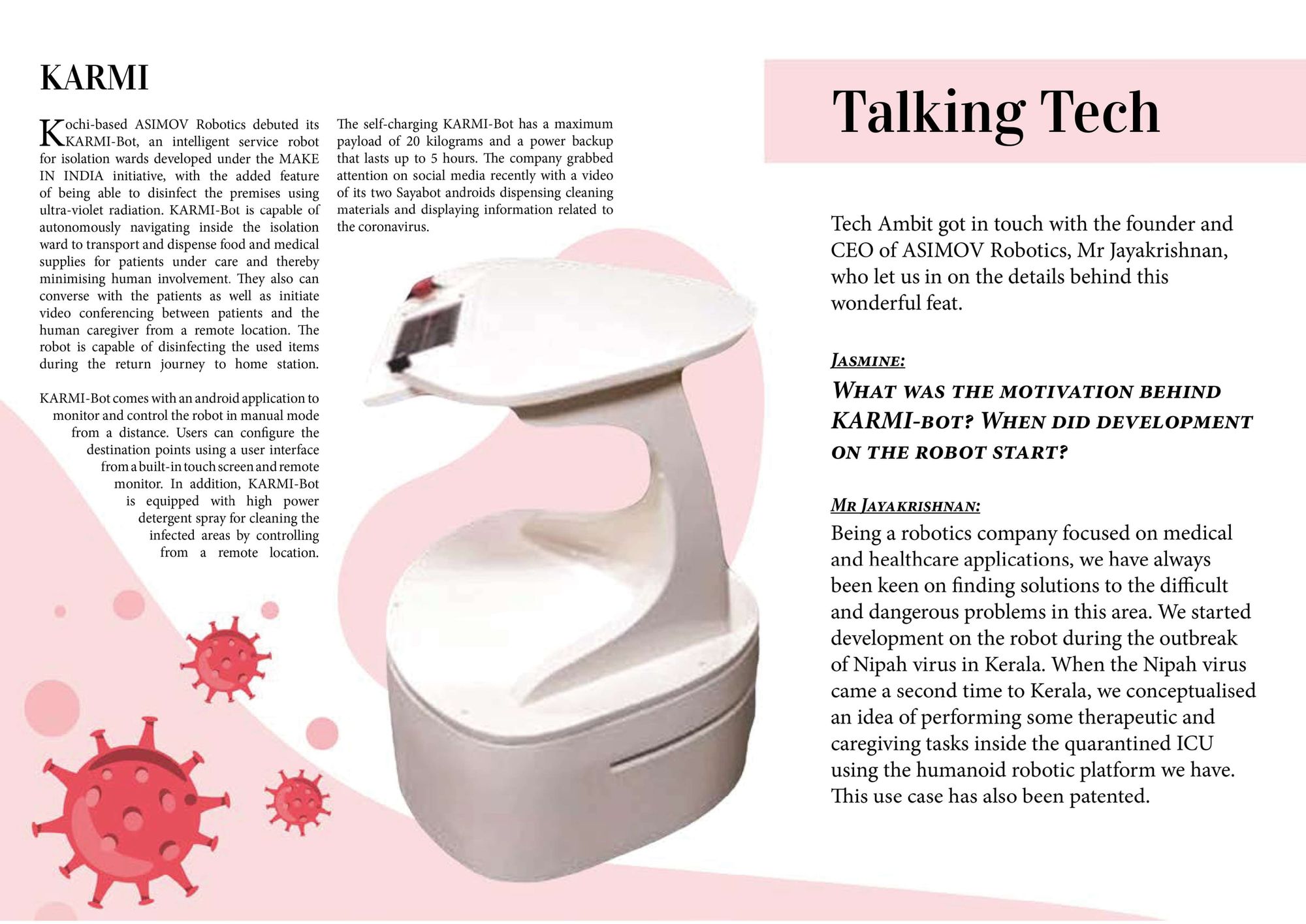 Upon interacting with them, we identified a few important design aspects: like the need for collecting trash and other used items, ability to withstand the frequent cleaning using detergent spray etc. We have designed a robot which has all these capabilities. That was how KARMI-Bot (meaning "Robot staff") was born.  It is also equipped with targeted spray using disinfectants to protect health workers before they clean any bodily fluid on the floor in the case of vomiting, coughing and sneezing by the patient.
Next, we identified sponsors for project KARMI-Bot so that it can be given free of cost to hospitals. Fortunately, we got an immediate response from Malayalam film Actor Padma Bhushan Sri Mohanlal, and the robot was handed over to Cochin medical college under his sponsorship.
What roadblocks did your team face, and how did they overcome them?
Initially, we had faced a shortage of spare parts and difficulty with travelling and using office space inside the IT park. We then received special permissions from the Police and Park administration quickly upon request. As far as spare parts are concerned, we had dismantled the other robots in stock to address the issue.
Would you be expanding nationally and internationally soon, during the pandemic?
Definitely. We have 100's of orders in the pipeline from potential customers in India and abroad. We have completed the product and engineering design of four different models of KARMI-Bot. We are currently in the process of gearing up the production activities and scaleup the business through equity-based fundraising.
---
Airlens Minus Corona
The novel coronavirus can be deactivated using an alcohol-based sanitizer or washing your hands with soap and water. At an individual level, these are right solutions, but scaling up to the size of a city makes it impractical. Debayan Saha and Dr Shashi Ranjan, alumni of IIT Kharagpur and AIIMS respectively, have developed a device that purifies the air and eliminates the threat of the novel coronavirus. The duo in their venture, PerSapien Innovations, have used ionised water droplets released in the air to oxidise the viral proteins into non-harmful molecules. The water droplets are ionised using corona discharges, and these are ready to sterilise entire cities.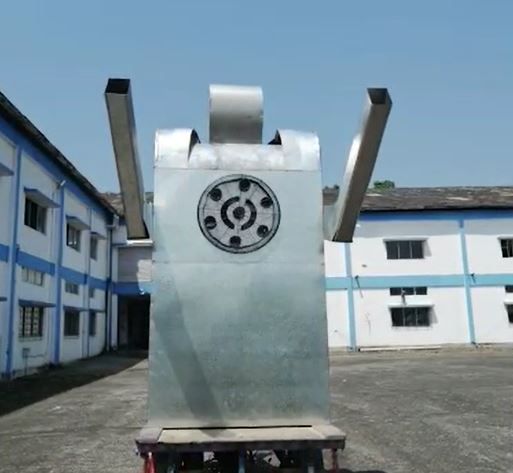 Dr Shashi Ranjan augmented the technology on the scientific research he did at NUS, Singapore. The team claims their technology uses an optimal combination of electric energy and water atomisation techniques to induce a charge on the water droplets, thereby creating oxidative 'Hydroxyl Radicals'. To travel the streets, they have developed a "Robo-Sapien" machine that can go to hospitals, bus stops, railway stations and other public places to sterilise surfaces which may cause the spread of coronavirus. The team has also come up with devices that can be used for buildings like homes and hospitals.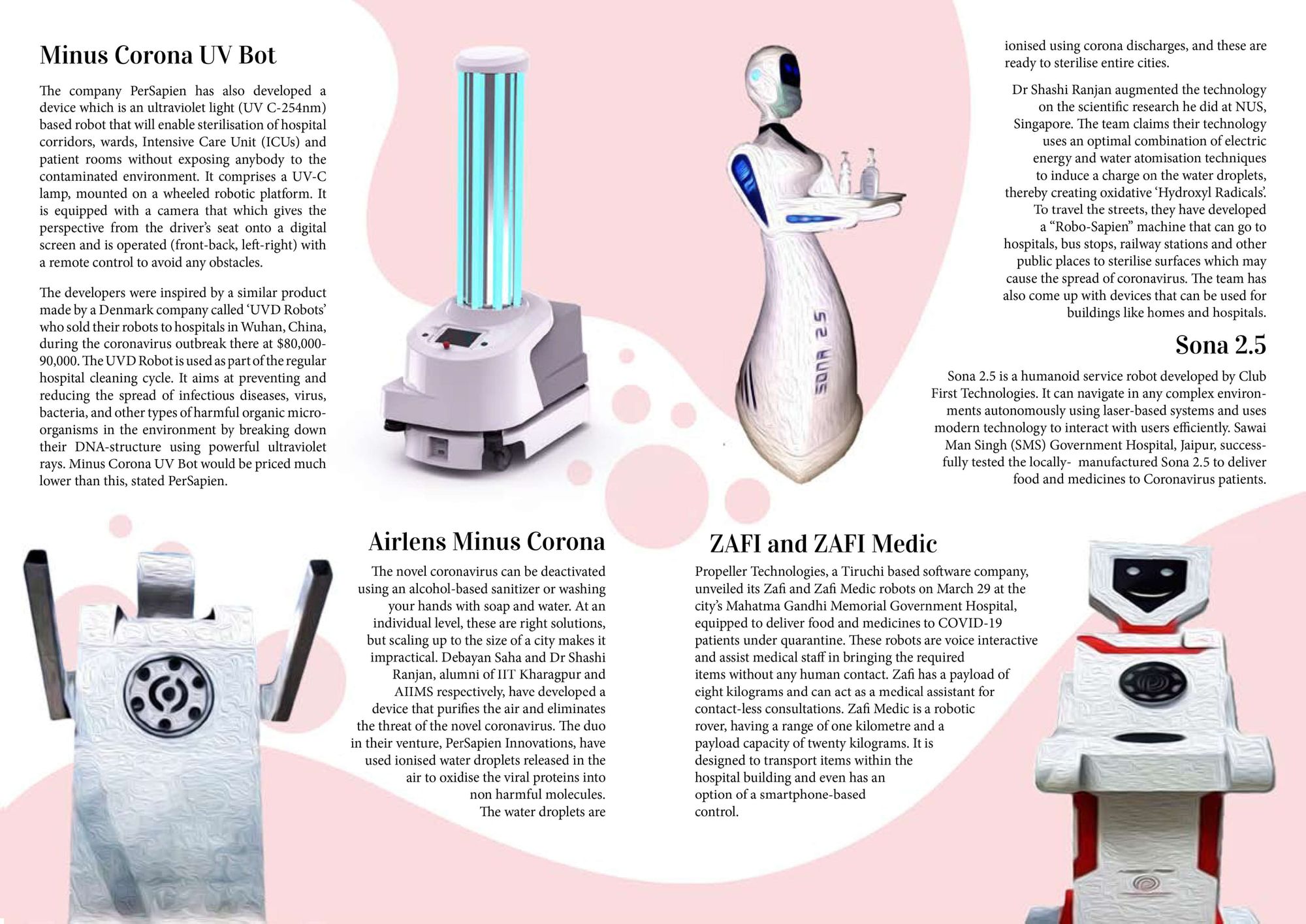 Minus Corona UV Bot
The company PerSapien has also developed a device which is an ultraviolet light (UV C-254nm) based robot that will enable sterilisation of hospital corridors, wards, Intensive Care Unit (ICUs) and patient rooms without exposing anybody to the contaminated environment. It comprises a UV-C lamp, mounted on a wheeled robotic platform. It is equipped with a camera that which gives the perspective from the driver's seat onto a digital screen and is operated (front-back, left-right) with a remote control to avoid any obstacles.
Ultraviolet (UV) sterilisation technology has been proven to be extremely effective in killing viruses and micro-organisms of any kind which may remain on surfaces even after the minimum number of standard cleaning, Debayan Saha informs.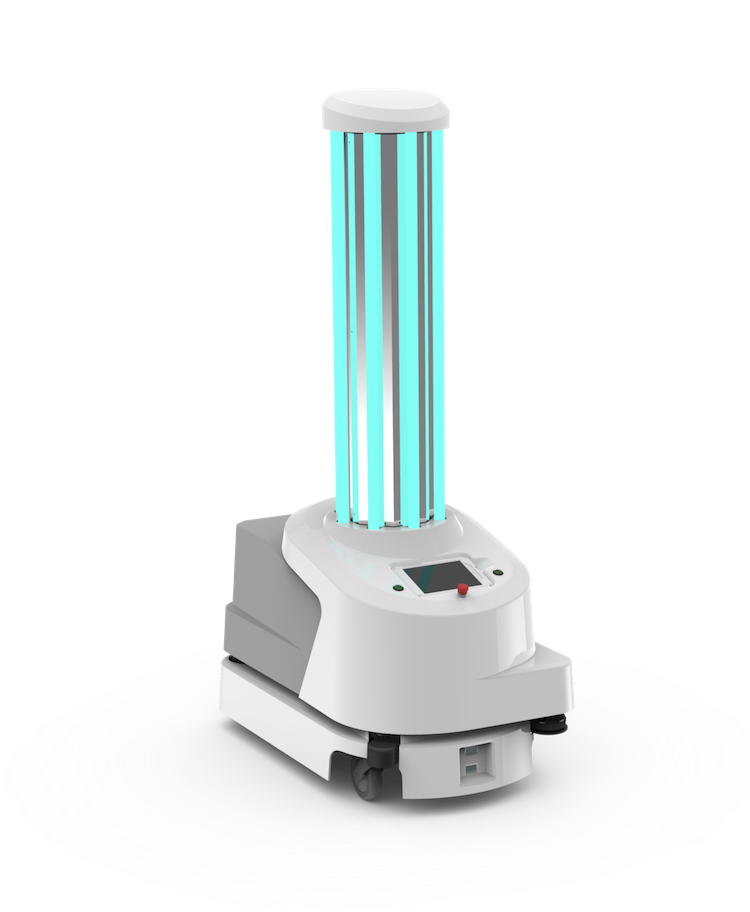 The developers were inspired by a similar product made by a Denmark company called 'UVD Robots' who sold their robots to hospitals in Wuhan, China, during the coronavirus outbreak there at $80,000-90,000. The UVD Robot is used as part of the regular hospital cleaning cycle. It aims at preventing and reducing the spread of infectious diseases, virus, bacteria, and other types of harmful organic micro-organisms in the environment by breaking down their DNA-structure using powerful ultraviolet rays. Minus Corona UV Bot would be priced much lower than this, stated PerSapien.
ZAFI and ZAFI Medic

Propeller Technologies, a Tiruchi based software company, unveiled its Zafi and Zafi Medic robots on March 29 at the city's Mahatma Gandhi Memorial Government Hospital, equipped to deliver food and medicines to COVID-19 patients under quarantine. These robots are voice interactive and assist medical staff in bringing the required items without any human contact. Zafi has a payload of eight kilograms and can act as a medical assistant for contact-less consultations. Zafi Medic is a robotic rover, having a range of one kilometre and a payload capacity of twenty kilograms. It is designed to transport items within the hospital building and even has an option of a smartphone-based control.
Sona 2.5
Sona 2.5 is a humanoid service robot developed by Club First Technologies. It can navigate in any complex environments autonomously using laser-based systems and uses modern technology to interact with users efficiently. Sawai Man Singh (SMS) Government Hospital, Jaipur, successfully tested the locally-manufactured Sona 2.5 to deliver food and medicines to Coronavirus patients.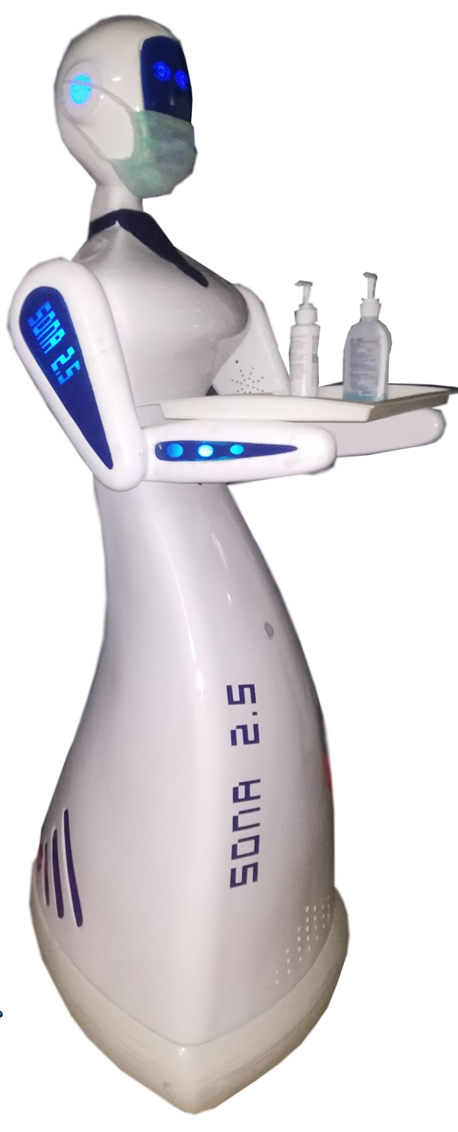 Looking Ahead...
The use of automation in these trying times will benefit the medical society and administration in keeping a check on the spread of the virus. As a nation with plentiful innovative technologists, contributing whatever possible in the safest manner can sometimes go a long way.