Students and people in and around the IIT Delhi campus might have noticed quite a few drone shows by now performed near the Hockey Field. These amazing formations are performed by Botlab Dynamics, located in Research & Innovation Park, IIT Delhi. The story behind this startup goes long back to the founders' motivation to do something for India. Inspired by his father, who was a policeman, Tanmay initially wanted to give a government exam and become an IPS officer. Having developed a liking for physics during his entrance preparation, he realized that if he had to invest time, he might as well understand how things work.
My dad told me if you are going to IIT, do something of the national service sort. "You are not allowed to leave the country." I grew up looking at my dad. So when I had the resources at IIT Delhi, I had the opportunity to change the defense situation of our country.
Tanmay entered IIT in 2010 as an undergraduate in Engineering Physics. He wasn't interested in taking up any core jobs as such. He wanted to make things. At the time, India was trying to buy the missile Javelin, and each missile cost around 90 lakhs. This bugged him from the very start - why do we import hardware from foreign nations? The most expensive part of any such system is the electronics - the guidance computer, stabilization, flight computer, etc. He wanted to understand how these things work. So they took some parts and tried to assemble them in 2010, but nothing much happened.
After a while, in September 2012, they flew a drone. They were not trying to make a drone, but trying to understand and make the flight computer - how does it gets stabilized, how do you instruct it to go up and down, how will it even know what is above and what is below. Nowadays, even 3-axis gyros are not that difficult but back then, they had to take three single-axis gyros and put them in orthogonal directions to make it go around (Gyroscopes are used to measure and maintain orientation).
It was a good learning experience. Making a drone, and trying to understand what goes into flying this thing. Apart from this, other things we tried were taking parts from other drones, disassembling them and then trying to put core subsystems together. These were the early days of drones.
The drone they made was small. It couldn't fly for long and carry anything. They had two solutions -
- Make everything (drone, motors, propellers) bigger, and tune the flight controller for the mass distribution. But they realized this gets very expensive since if anything gets broken, they have no extra funds. They were working on a scholarship basis and had limited funds behind them.
- Make similar systems on a smaller level. Even if something breaks, they can take part from one drone and put it on another. This way, there'll always be a fraction of the drone that's working.
In 2014, during the IIT Delhi's open house, they demonstrated that you could detect a target from one drone and extract the GPS coordinates, relay that information to another drone that goes and sits there. This showed a certain level of task elimination. By this time, he and his team were also asked to deliver eight drones that would join the Delhi Police. After this, he graduated and worked at a lab. Then in July 2016, Tanmay, and his roommate, Anuj Barnwal, incorporated Botlab Dynamics. Later, Dr. Sarita Ahlawat also joined the team.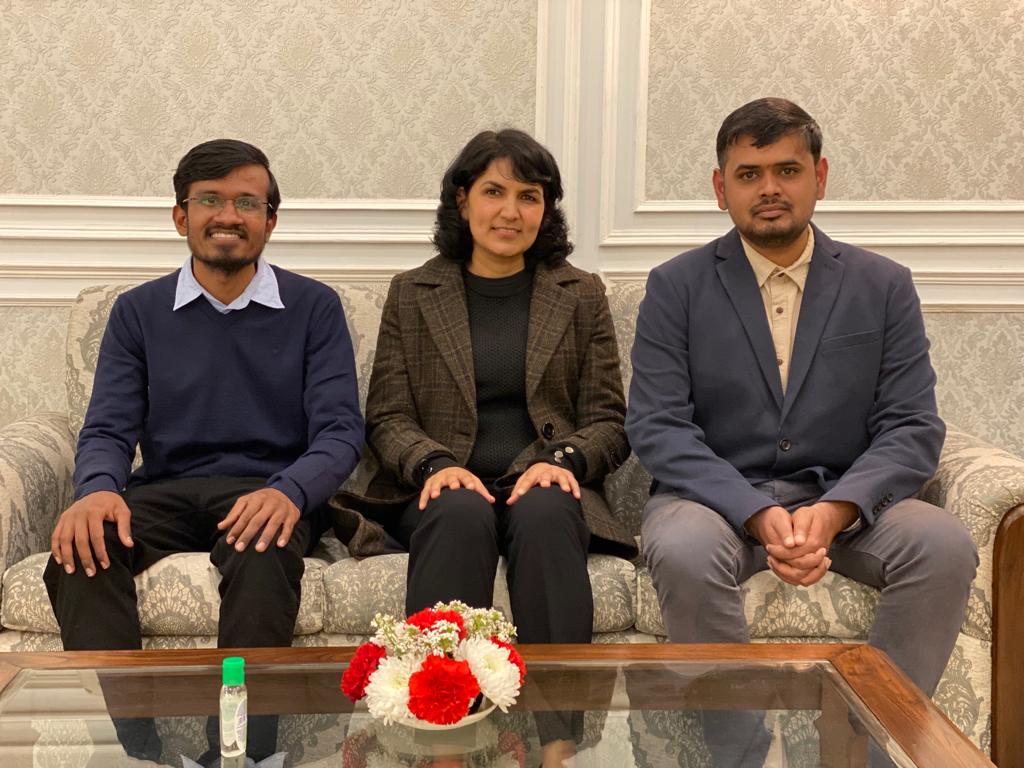 At this time, there was no regulation in the drone space, and the Government had already banned the flying of drones in October 2014. So if you fly a drone, you are potentially a criminal. The only way to be in the drone space was to work with Government agencies. Botlab Dynamics was working with the Indian Agricultural Research Institute (IARI), selling them heavy-lift systems. They went to demonstrate the heavy lift drone in Tawang near the Tibetan border through the Army Design Bureau (ADB). Flying 8 km from the border and at an altitude of 16000 ft. made them realize that the system is okay; they will need several of these. At that time, the key value they were adding was the application on the top of the drones. The drones were put together by buying parts and assembling them, and that was available to everyone else too.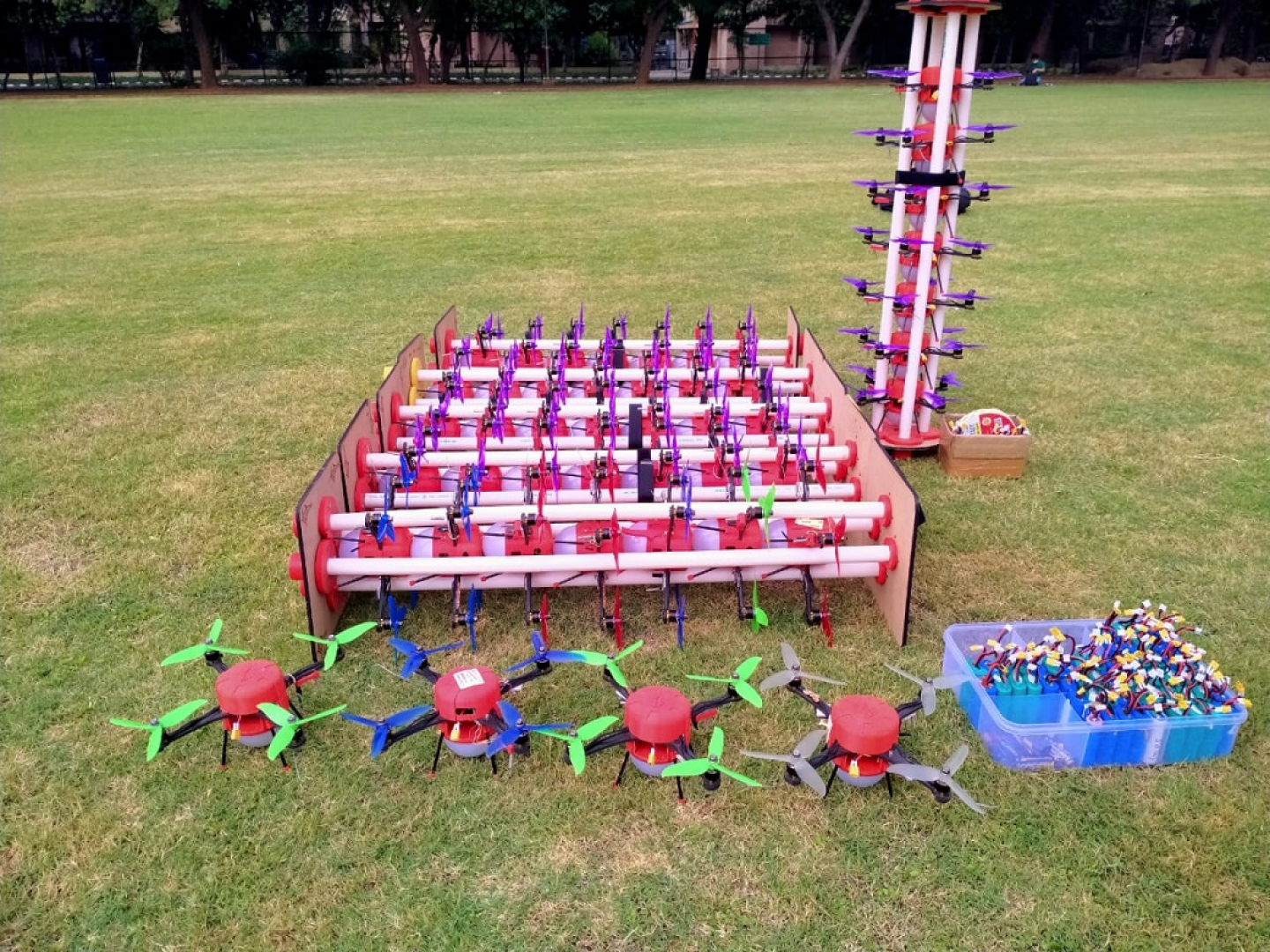 In January 2019, they demonstrated ten drones flying together at Manekshaw Centre during Army Technology Demonstration (ARTECH). They upscaled that and took it to Pokhran. This event completely changed the future plans for Botlab. Here the 40oC heat, high and gusty winds led to only 4 out of 10 systems working. The qualification criteria was 6. They were out of the competition.
We came back and we were very discouraged. We realized we had failed because we were relying on hardware that was made and designed by someone else.
If a part breaks or something goes wrong, the maximum troubleshooting they can do is to replace the part. They could not diagnose the problem. All they would know is the fact that it has stopped working. They also realized a crucial thing - this is basically the theme in all our defense systems. If something is broken, they have to order a new part. They don't know how to repair it, and that is why it is so expensive.
Making it as Indian as possible
They decided to make their technologies from the ground up - flight controller (its brain), GPS, motor controller, whatever core tech was required in the drones. Slowly after that, in 2020, they had to let go of the defense side of things.
Defense is something that requires deep pockets, and that is not something we have. We had exhausted the resources we had in pursuing the air force competition.
They were trying to build the core tech and figure out an application in surveillance, volumetric survey, spraying, etc. They just decided to build the tech, and if it becomes valuable enough, other people can use it. They succeeded in building the flight controller, and they were testing their drones in the field at night. They needed an indicator to show which drones were working, and they had put lights on the arms of the drones to see where they were going. Realizing that this could be converted into a light show, they discussed it with Ramgopal Rao (director of IIT Delhi at the time). Drone shows could be done during Dusshera in place of fireworks which caused a lot of pollution. A few light shows had been done in India by foreign companies before that - Russian companies charging three crores for 250 drones. There was no Indian player in the segment.
At around the same time in 2021, the Central Government issued the New Drone Rules, which are also known as the liberalized Drone Rules 2021. The Government reduced the number of rules from 25 to only 6. This was a great push for new drone projects in India. The goal of the Government was to transform core sectors like logistics, mining, surveillance, and transportation and to make India a global hub for drones.
They went to the Department of Science & Technology (DST) and pitched to the secretary that they have a viable business model and this is what the tech is capable of. DST gave them 50 lakh, and with this, they made 50 drones and started getting better and better at making interesting formations. One of these formations caught the eye of the Ministry of Defense, and they asked them to do a 1000 drone show at Beating Retreat - the annual military ceremony held every year in Delhi.
We didn't even know if we were capable of doing that, but we said yes. We just had 50 drones at the time. Our flight controller was ready, GPS was ready, electronics was ready and we just had to scale up. They were ready to help us with finances and putting us in touch with various agencies.
Enters the pandemic
When electronics are made, generally, it is tested with 4 to 5 parts, and then the whole batch is ordered. But they didn't have that luxury since, during this time, the entire supply chain of chips was disrupted. Globally, there was a shortage of electronic chips, and this affected every major business that has anything to do with electronics. Whatever they needed, they had to order all the 1000 pieces at once because time was of the essence, and they wouldn't get those parts later. There was a danger of something not working later since they had ordered all at once. All the exact parts weren't available, and they had to review the datasheet of the sensors and predict whether they could write the driver code for it in 2 to 3 weeks and make decisions based on that. They got the money just in the nick of time and redesigned everything within three weeks with whatever parts they could acquire. Parallel to this, they also had to keep giving technical presentations to the body, which gave them money. Despite all of these challenges, they were able to put together a successful light show including 1000 drones, with each drone being "as Indian as possible!"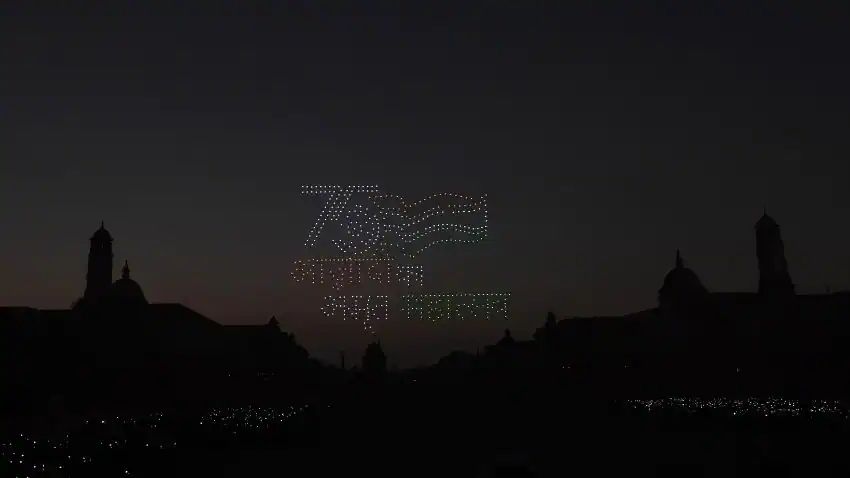 How did IIT Delhi help you in incorporating this startup and what was the initial revenue model you had thought of?
Tanmay: We were just initially looking for tech. IIT Delhi still has a long way to go in creating an ecosystem where hardware startups can flourish. We need more facilities like Makerspace and FSAE. We need PCB prototyping labs too. We were very fortunate as there were people to help us who didn't tell us no when they easily could have. A lot of faculty members also helped us in figuring out things. At times, you just don't know what you don't know. FITT in IIT Delhi gave us a space where six people could sit together, and we were in the incubation space for five years. No other company stayed here for five long years. People either graduate after 2 to 3 years or make enough revenue. Because we were working in hardware, it took more time for it to mature. On the other hand, if you see IIT Madras, they have many hardware-based startups like Ather, who have taken huge funding. In India's startup story, hardware startups are going to play a major role in the development. There needs to be an ecosystem for hardware-based startups, and if it won't come in IIT, where else will it take shape. IIT gives you space and its name. Even if you present your idea to someone and the idea is weird, they think you must have thought it through. That's a luxury graduates of other institutes don't have. We knew nothing about the revenue model, how to acquire customers, or how to price the product. It's not that intuitive to an engineer. We just kept progressing and failing. There wasn't a long-term plan. Apart from that, we were trying to work with the defense. Defense is not a business where you put on money and get returns instantly, it takes 5 to 10 years, and that is lethal for a startup. We still want to work with the defense, but we have realized the need for a financial model. If you get too deep into research & development, you forget you also have to sell it. You have to have a financial model that is backing up your R&D. That's why we are doing the light shows. It makes us sellable. We did a show last month in Djibouti (a country in Africa), which was our first international show, beating a French country to get the order. No one doubts our tech. The challenge is to market it, sell it, and make money out of it. You can't have all the answers when you are starting out. If you wait to get all the answers, you will never get started. Have some faith in yourself, your team, and your vision. I was fortunate to have the backing of my co-founder.
Is the plan forward to keep on selling drone shows?
Tanmay: Currently, we have a website and some presence in the entertainment industry. You can send us an inquiry on the site, and we ask for the location and date of the event. We did a shoot in Mumbai for a game launch, and we pitched to them that we could make the character of the game in the sky. We also made a QR code that people could scan.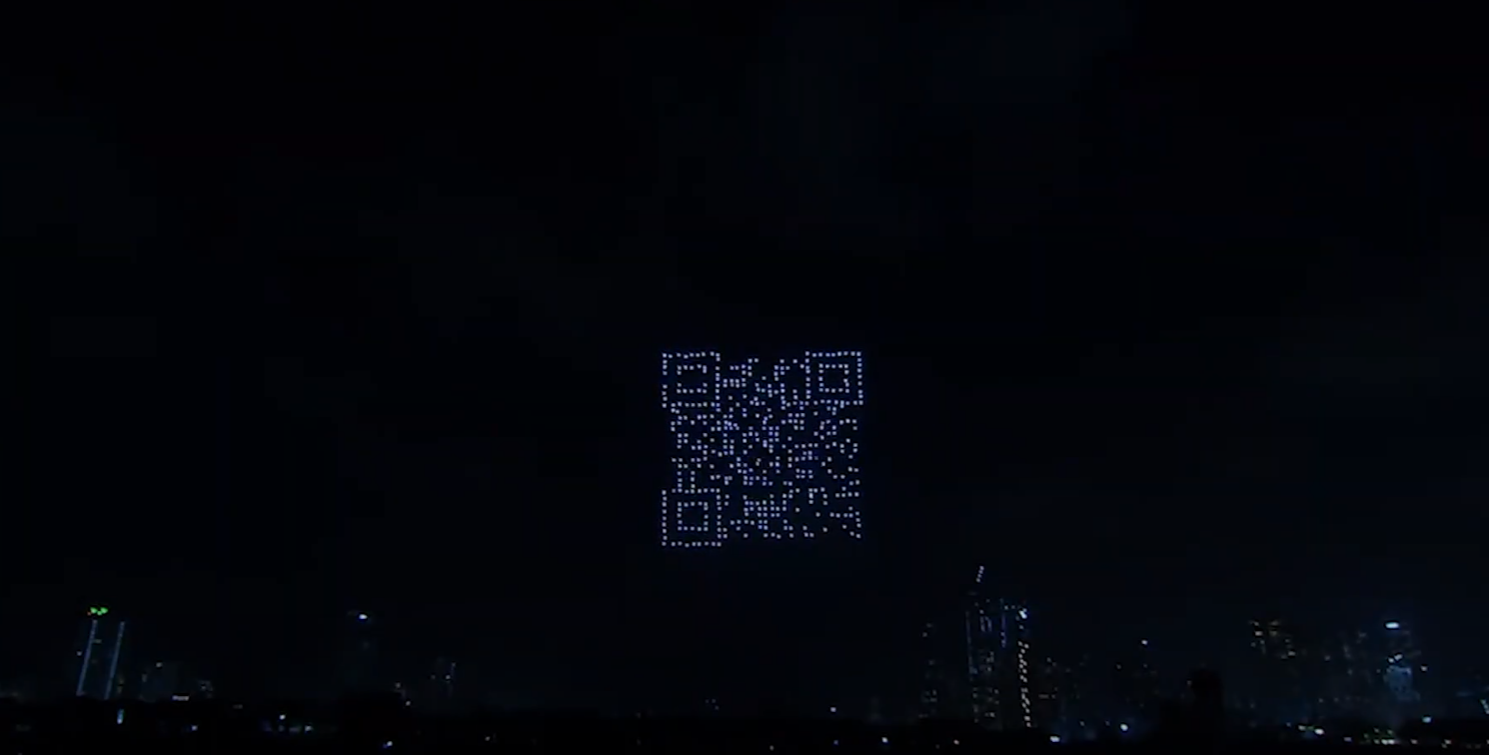 Normally, if you put ads, you never know where your customer has come from, but in the QR code, it's easily trackable how many hits did it get. So these guys got 4 to 5 million hits in a few days. It just went viral because it was something new, and then you realize a lot is happening in this space. The news came out that Elon Musk's brother has bought Intel's drone light show business. This space is buzzing with a lot of activity, especially in the international segment. The government wants to make India a drone hub by 2030, but for that to happen, the shows must be bigger and better, and that's what we are trying to do.
Do you have a government license or something (for drone shows) or is it because you are working with the defense?
Tanmay: Last August (2021), a policy was released which allows you to register your drones just like you have to get your cars registered. And once a drone is registered, you can make as many copies. So all our drones are registered. And when we export the drones as we did in Africa, they come under "not a weapon but can be used as a weapon," so we have to have the necessary certificates. The government has also banned the import of drones, so we can't get any more push than this (to thrive as a Make-in-India drone company).
What changes have you seen in IIT since the past 12 years?
Tanmay: Earlier, if you had to do anything, you had to go through a lab and get the necessary permissions. Now you can directly go to Makerspace, and there wasn't any startup culture as such when I entered. People are now sitting in their rooms and creating startups on their laptops. People used to just come here for a job, not following their passion, but that has changed significantly. People are willing to do what they want to do. I would like to see Tryst becoming a bigger event than Rendezvous, but ultimately it boils down to economics. You have to create interest, create tech, and create incentives. This year, a drone racing event happened in Tryst. Those types of things never happened before.
When you do a drone show, do you have to pre-program the entire thing or just make an animation and drones make the formations themselves?
Tanmay: Initially, when we were at 50 drones, we could manually place them one by one and then check on the simulator. We had to then debug, for example, if a drone can only go 10 meters, but if we command it to go 12, it will create all sorts of issues. But now we have automated it. You give me an image; the software will scan it and position the drones. There are many factors into consideration, like if there are n drones in one image, and the next image has m drones (where m > n), then how do I minimize the overall travel of the drones so that the formation is formed. Apart from that, assigning the drone movements in such a way that they do not physically collide is also taken into account. Each drone is given a unique ID to correct for misalignment. In winters, our propellers crack easily because it is plastic and lightweight. But you won't be able to see the crack, and it will eventually break on the next flight. So now we have built vibration detection, as when it cracks, it vibrates a little. So you can detect that, and we have it turn red. So when it lands, we know which ones are faulty and need an inspection. This is a small example of how we have automated the systems because for 1000 drones, you have to automate a lot of things that were done manually on 50 drones. We have also built a simulator that can simulate 1000 drones, and instead of simulating it as a point, we can feed a lot of physical conditions into it like temperature, humidity, etc. Since we make our own hardware, even if some part goes down, we know exactly what is wrong, and we don't need to maintain an inventory of parts. We have been here for six years, and we have done a lot of image processing, and we have put our experience from that into the light show. The light show is what people know since that is easily visible. What we are doing different is not the light show; it's how we are doing it. We are not buying technology from other countries; we are making it entirely ourselves.
Our product is not the drone, our product is that team that can make anything.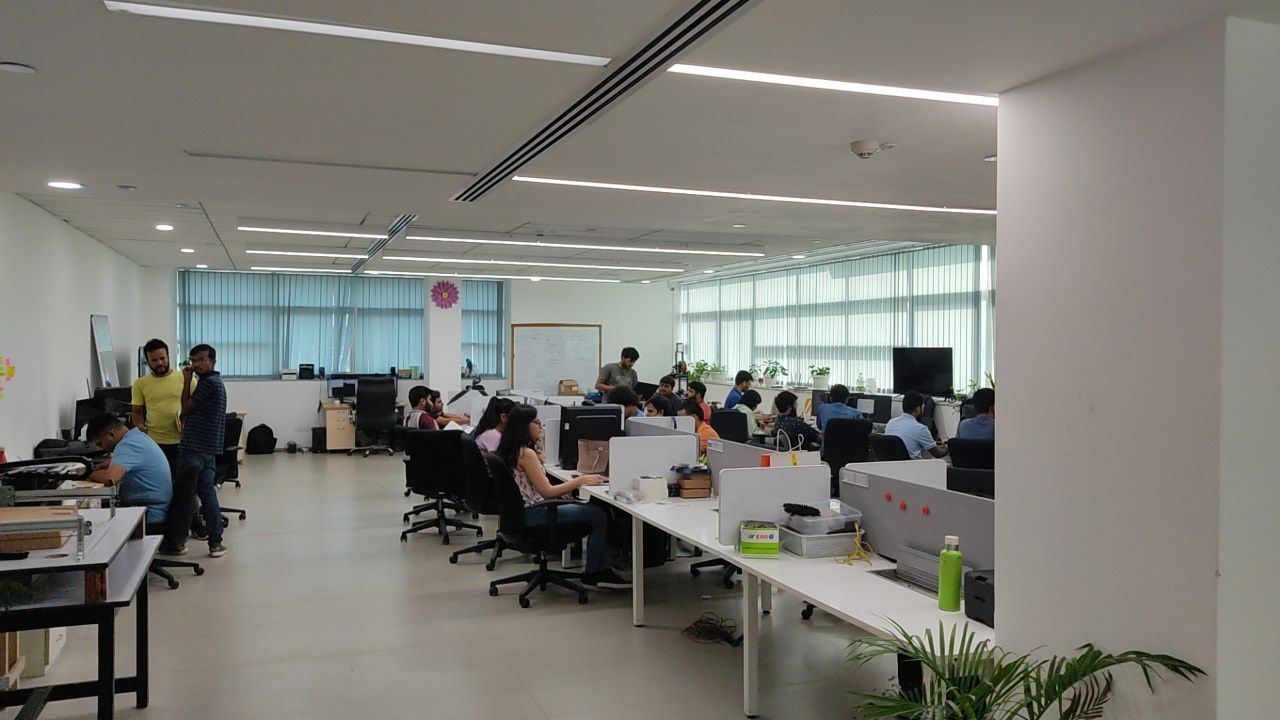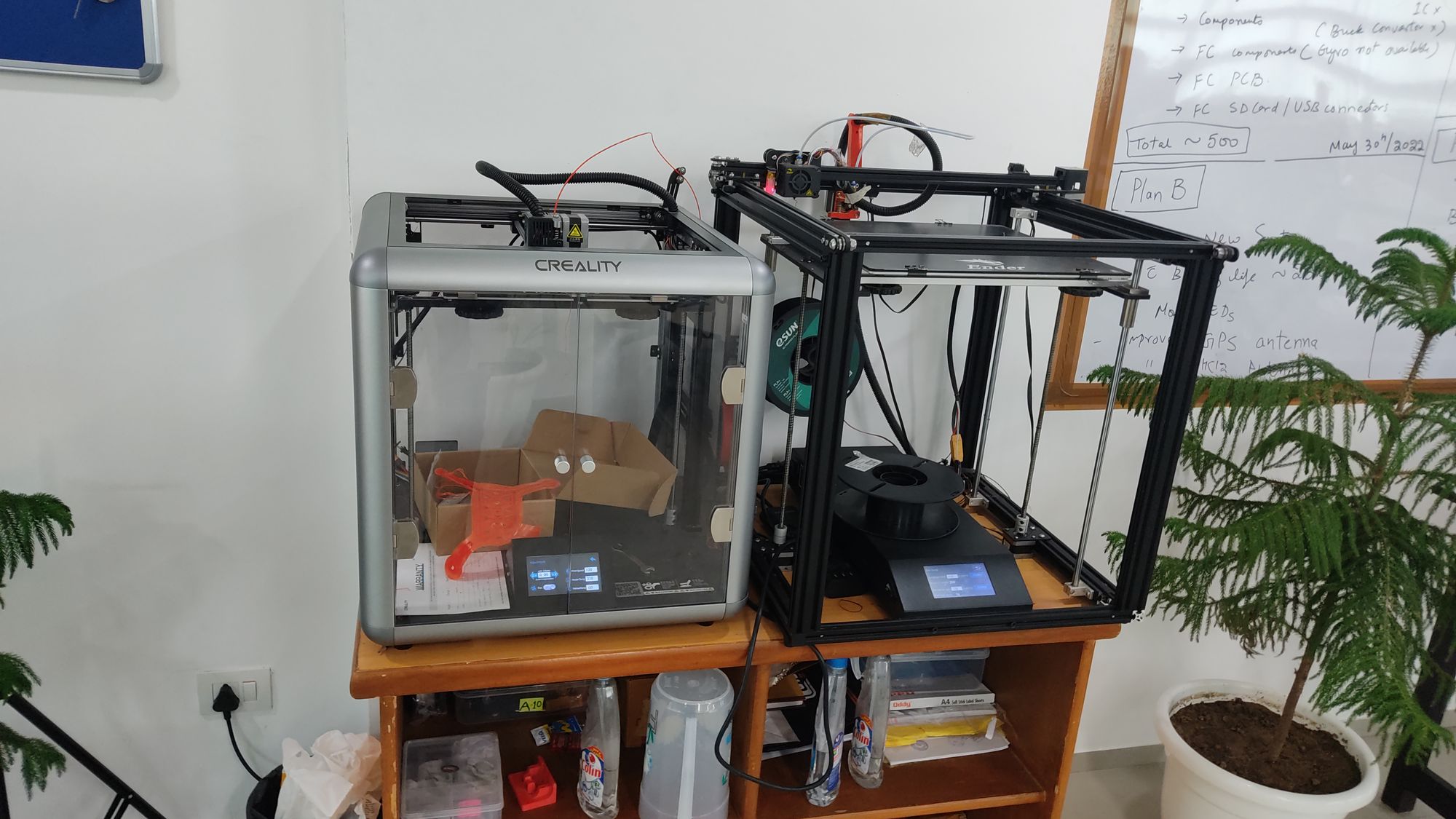 How many competitors are there who are doing it inhouse just like you?
Tanmay: I am not aware of many different companies, but if you go to Drone Mahotsav, you will notice all these drones have the same frame, just a different cap. There is a lot of incentive for companies to build the product fast and start providing services. Many people are not actually making the electronics themselves, and the ones who are making it are doing it on a small scale. We are investing more to eventually become an OEM (original equipment manufacturer). So those other companies in India who want to make drones start buying parts from us - GPS, flight controller, etc. We are driving in that direction where we would not be making the drone. We would be making the parts that allow others to make drones by themselves or make drone kits. For example, you should observe the disc brakes on different motorcycles. You will notice it is the same company that is providing disc brakes to all these motorcycles of different companies. Similarly, in our case, the hardware will be built by us and made in India.
Is technology demonstrated in Spiderman: Far from Home feasible and would you able to replicate it?
Tanmay: I don't know about exact holographic technology, but it is actually possible to spoof images on the enemy's radar by making drone formations and making them believe something that is not there. Making Eiffel Towers in the sky like that shown in the movie might not be theoretically impossible, but economics is the challenge. There are no limits to possibilities. Recently, a Russian company made the image of a Sheikh in the sky using about 2000 drones. Our next goal is to increase our fleet to 3000 by the end of this year. We already have 1000 drones. Our final frontier is to break the world record, and we are very passionate about that. The drone revolution starts here in India, and we want to be the ones who kickstart the revolution.
Do you envision delivery by drones?
Tanmay: Technologies have curves, and right now, there is a lot of hype. But if you look at economics, flying is very energy intensive, and in a country like ours, where 10-minute delivery is already happening, and labor is cheap, it will take time for the technology to be as reliable and as cheap as you can use it. Just like flying cars have also been around for so long, there is no ecosystem for air traffic control or regulations in place. Building a car is not enough. Having the road, traffic controls, and police regulations is what makes transportation happen.
Why does a drone show cost so much when the drones are re-usable?
Tanmay: Drone shipping costs a lot since drones are hazardous goods and batteries are flammable, so they are packed separately. Apart from this, the drones generate Gigabytes of data, and the computation also costs significantly. Despite all this, our cost is at least half, if not less, than the competitors. We were able to offer 800 drones at the same cost for which a French company could offer only 300 drones. Not everyone can afford a light show, but big companies will want to do it for their product launches, since maximum sales of any product happen in the 1st quarter, after which the competitors catch up.
Will blockchain technology be integrated in drones in the future?
Tanmay: Blockchain basically solves conflict resolution. If a drone is coming and there is some intersection in the sky, how do you decide which will go first? The guy who implements blockchain in drones will control the airspace. Currently, the GPUs are very heavy which are used in blockchain computations, and you can't put those on the drones. But eventually, the hardware will catch up. If given enough resources, this is where I will work on - implementing blockchain in drones.
Advice for people who want to start hardware based startups?
Tanmay:
1. If you have 500 rupees, buy a Raspberry Pi Pico since you can program it in C and MicroPython both. Learn MicroPython. It's not a lot of money. It actually does not take anything to start. If you are trying to make a product, it pays well if you know what you are doing tech-wise.
2. Find a co-founder who will keep you in check. If they say you are stupid, listen to them. Find someone who you can trust enough. Things are difficult, and they are supposed to be like that. There will come a time when you will feel like leaving it all and going back to do IPS preparations or taking a job. At that time, your co-founder will remind you that he left his job for you, and you now have to make it work. My co-founder is my batch-mate and my roommate. I made him leave his job.
You will feel like the tension will go away after the customers come, after the revenue comes, and after the funding comes, but it will never go away. Things won't be comfortable for a very long time. Don't expect things to be chill at any moment.
---
Botlab Dynamics has come a long way and is currently trying to revolutionize drones in India with a terrific team of 44 individuals and a lot of dedication and hard work! This group has demonstrated the potential for greatness when people take the unconventional road of pursuing their passions at the expense of more financially secure employment.
References:
Botlab Dynamics on YouTube - Watch a lot of drone shows!